V/A – Gasmoney CDR
27 May 2010
xdementia
No Comment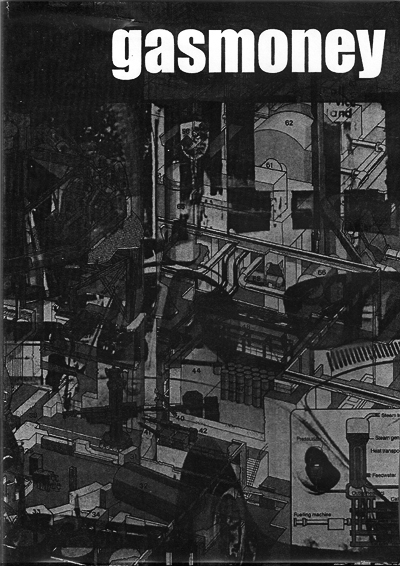 V/A – Gasmoney CDR
Five artists in 6 tracks make up this nifty little tour CDR in a slim DVD case. Simple black and white collage artwork adorning the outside while the CDR itself is a pale red it's easy to get it mixed up with some other faceless CDR. Luckily the same cannot be said for the sound contained within.
Pyrrhic Thanatolgy Monger is first up with a whining feedback tone interrupt by outbursts of harsh noise and vocal fits. Simple and effective, the feedback never gets old and the spastic nature of the track stays effective throughout it's duration. PTM also finishes the disc with amore textured track featuring a complex oscillating feedback tone that is overblown, and run through a ton of effects. The vocal fits remain but this time there is a build-up with more interaction and call-and-response amid the noise. Although the recording sounds a little hollow here and there the intensity is full-force and comes across with focus and precision.
Skingraft truly lives up to his name with his track "Uncontroll" which makes me think of what the deadly blade based machine in Kafka's The Penal Colony might sound like, from the inside. Odd textures converge with mangled melodies. About half way through the track the machine is "turned on" and you are trapped as the whirlwind of spinning blades cuts at your skin.
Next up is actually my favorite track on the album by J.Soliday entitled "The Relay Tower is Singing". What is presented here is about 5 minutes of electroacoustic influenced experimental noise. Textures quickly change, and pan back and forth across the space. There are a lot of dynamics and movement at every moment here and it ends up having a very visual effect. Not of anything specific though, just of some kind of objects moving through space, colors, shapes, abstract things. Very well composed, thought-out and effective.
Winters in Osaka is the odd one out here with their 18 minute track of slowly evolving drone. This one doesn't strike me as quite as successful as it's rather generic although there are some great textures that are explored. The track is slow to start but by the half way point the metallic feedback textures ebb and flow and jingle while somewhat reminding me of Niellerade Fallibilisthorstar.
Finally we arrive at Koufar's unique blending of Middle Eastern music samples and power electronics. The formula alone is one that is destined for success, especially given the subject matter which is already so politically charged. As the shortest track "The Difference" the sound is held back quite a bit. Subtle electronic elements and industrial texures augment a repeating mantra sung by a woman, or perhaps a young boy. The restraint featured in this track works well and through it's repetitiveness the mantra grows until it forms an imprint on my mind.
If there are more copies of this disc left I'd suggest picking it up. A great sampling of all the artists and solid release in it's whole. Varied sounds and approaches make for an engaging listen.
| | |
| --- | --- |
| Composition: | |
| Sounds: | |
| Production Quality: | |
| Concept: | |
| Packaging: | |
| Overall Rating: | |