05/01 – Derek Holzer, Shawn Greenlee, Karlheinz, Animal Steel + more!!!
29 March 2010
xdementia
6 Comments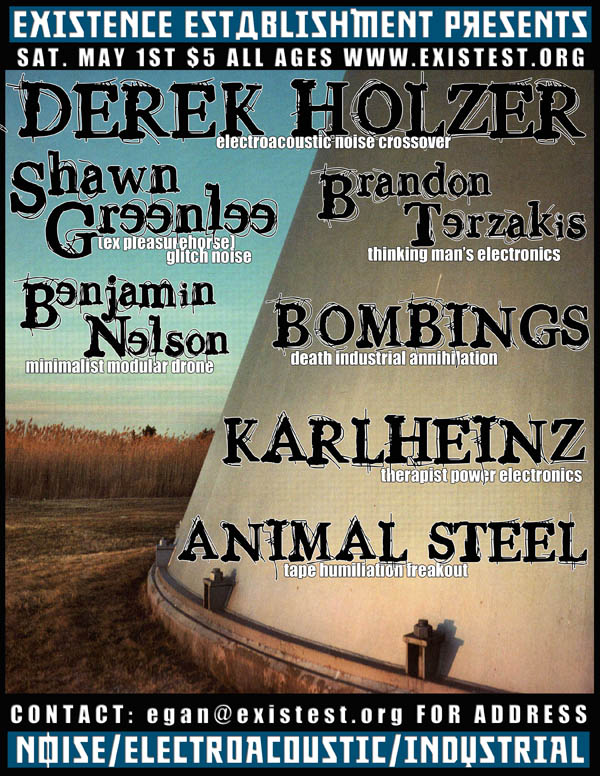 *NEW LOCATION! CONTACT: egan@existest.org FOR ADDRESS INFORMATION*
The Artists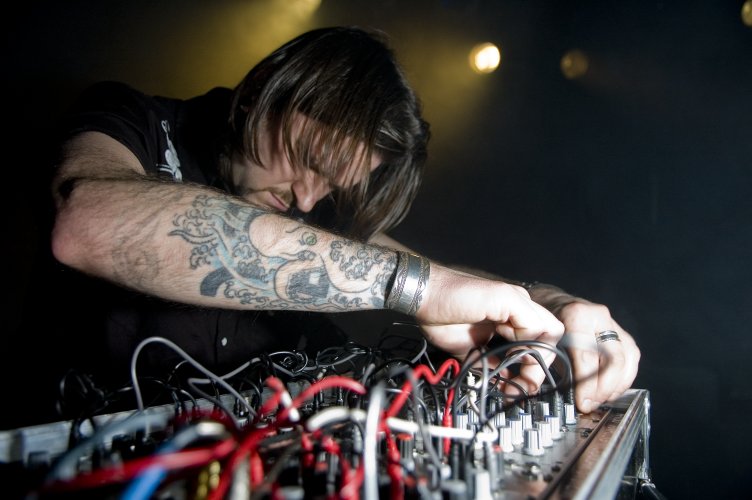 Derek Holzer (Berlin, DE)
Derek Holzer (1972) is an American sound artist living in Berlin, whose current interests include DIY analog electronics, sound art, field recording and the meeting points of electroacoustic, noise, improv and extreme music. He has played live experimental sound, as well as taught workshops in Pure Data and electronics, across Europe, North America, Brazil and New Zealand.
TONEWHEELS is an experiment in converting graphical imagery to sound, inspired by some of the pioneering 20th Century electronic music inventions. Transparent tonewheels with repeating patterns are spun over light-sensitive electronic circuitry to produce sound and light pulsations and textures. This all-analog set is performed entirely live without the use of computers, using only overhead projectors as light source, performance interface and audience display. In this way, TONEWHEELS aims to open up the "black box" of electronic music and video by exposing the working processes of the performance for the audience to see and hear.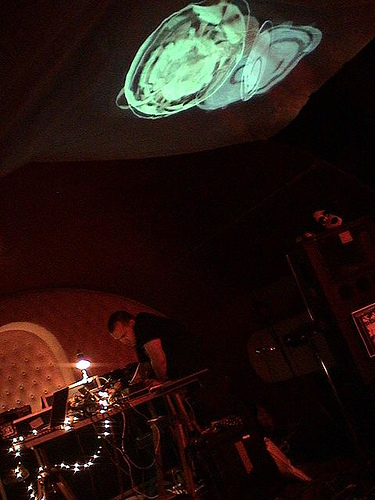 Shawn Greenlee (Providence, RI)
Greenlee is a sound/new media artist and composer/performer of experimental music. His work centers on freestyle performance with computer systems for both sound and image. Since 1992, Greenlee has been standing at the epicenter of Providence's panicked music scene, and is known for his solo electronic music, under the moniker, Pleasurehorse, as well as for founding and performing in the frenetic rock group, Landed (est. 1997). Other points of reference include his membership in the band, Six Finger Satellite (1999-2001), and his role in Providence's warehouse community of the late 90s including, the art collective and venue, Fort Thunder.
Greenlee earned his Ph.D. in Computer Music & New Media at Brown University where he was affiliated with MEME (Multimedia and Electronic Music Experiments). Other education includes an MA in Computer Music & Multimedia Composition from Brown University (2003) and a BFA in Printmaking from the Rhode Island School of Design (1996).
Greenlee's recent performance work focuses on the action of drawing as a musical gesture in conjunction with generating digital sound from graphic patterns. Via software of his own design, Greenlee advances new graphic synthesis techniques, methods for interpreting image as sound. Complimenting his performance practice, his collaborative endeavors include recent re-doings of Allan Kaprow's 1959 work, 18 Happenings in 6 Parts as well as designing bodily interaction with visual and spoken text in immersive virtual reality.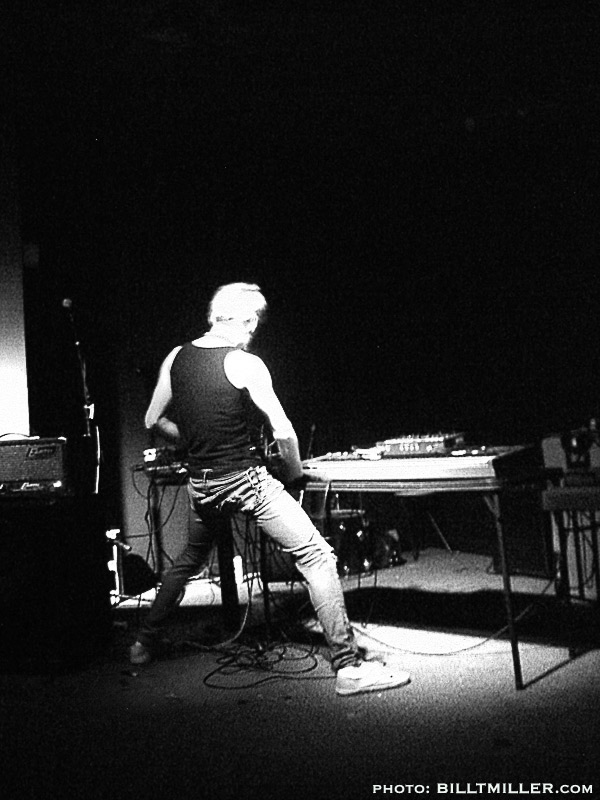 Animal Steel (Allston, MA)
"Yeah, something about the heavy bass and loops of pigs sqealing, I got really anxious and nauseuous and had to run outside and throw up. Sorry I missed the rest of the set." -Tim Madden/Epaullettes
Tape humiliation. Child modulation. White noise burden. Animal Steel is the nom de plume of Edward Sweeney (see also: Twodeadsluts Onegoodfuck) and works as vehicle for his solo compositions. Lighting speakers and breaking hearts since you were old enough to consent. Forward thinking music with satiric messages that can be heard when played backwards.
For his Mayday action Animal Steel will be performing My Affair With Judy Garland Nazi She-Bitch: for Four Cassette Decks (Presented in MondoSound!!!)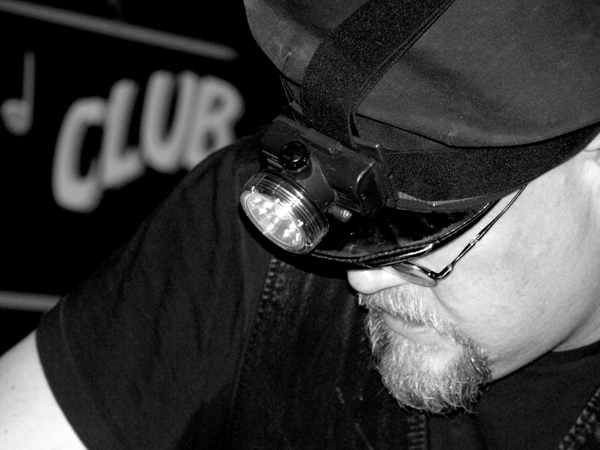 Karlheinz (Allston, MA)
Karlheinz is a one-man powerhouse noise machine. The noise persona of Karl Giesing, the name Karlheinz was adopted as an homage to composer Karlheinz Stockhausen – although Karlheinz has grown into a different beast altogether. A Karlheinz performance is distinguished by its sheer volume and ferocious energy.
Karl studied Music Composition at Indiana's Ball State University from 1989-1992, before moving to Boston in May of 1992. Both in Indiana and Boston, he was the guitarist in a variety of underground rock bands. But in 1996, Karl started recording his tape-loop compositions and noise assemblages, and found his true calling as an experimental composer and noise artist.
Karlheinz is usually a solo performer. However, he has been in a number of noise/percussion duos: Lord and Karlheinz (1998-2000, with Max Lord), Karlsruhe (2004, with John Ruhe of Ho-Ag and The Gersch), and Caverns (2005, with Lex Marburger). He has also collaborated in performances with Fire In The Head, Donna Parker, and Bereft.
As a solo noise artist, he has performed at art galleries such as the Berwick Research Institute and the Zeitgeist Gallery, as well as the Massachusetts College of Art and avant-garde playhouse the Market Theater. However, he's equally at home at rock venues such as the Middle East, O'Brien's, Jacque's Cabaret, or the Midway (where the manager proclaimed him "the Cadillac of noise"). He was featured as the artist of the month in a show called "Alternative Art: Noise Music," part of the "Brookline Look" program on BATV (Brookline public access). In addition, he's performed spoken word at a variety of venues.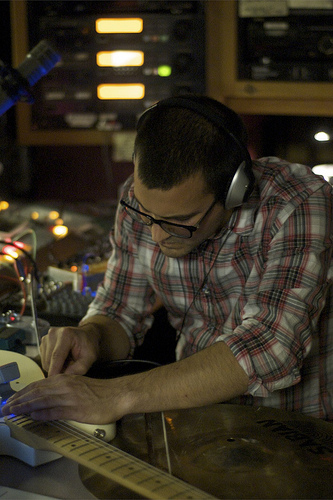 Brandon Terzakis (Boston, MA)
Brandon Terzakis is a young, Boston-based guitarist and sound artist. Brandon works with prepared guitar, cymbals, and various electronics to create delicate, near static drones. He has a split full-length due out on Keith Fullerton Whitman/Mimaroglu Music Sales' in-house nolabel later this year and another release on the Intransitive Recordings' sublabel, Songs From Under the Floorboards.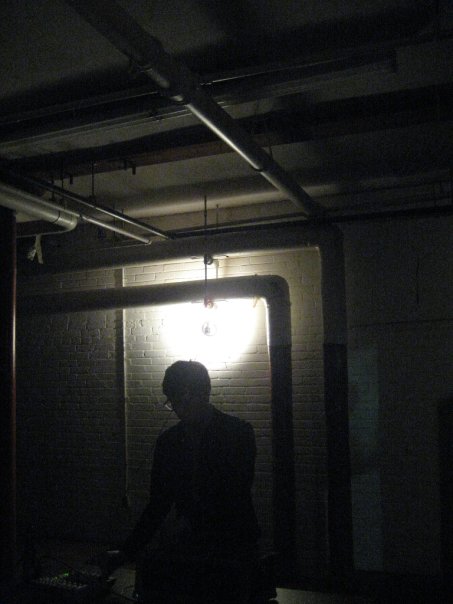 Benjamin Nelson (Jamaica Plain, MA)
Benjamin Nelson performs long form music based on explorations of stasis, volume, density, or lack thereof. Originally a cellist, Benjamin abandoned classical training to study electronic music, relocating to Boston in 2003 shortly thereafter. Nelson has performed throughout the US and Europe both solo and as a member of various groups ranging from free-folk to industrial and doom metal. Currently he performs stasis-based works exclusively on the modular synthesizer, intended to try and eliminate the anti-emotional and exploitative trappings of modern minimal music. He has a forthcoming split LP with Brandon Terzakis on Keith Fullerton Whitman's 'No' label due out summer 2010.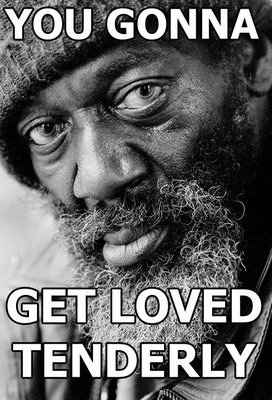 Bombings (Somerville, MA)
Bombings is a 1 man industrial drone/harsh noise project from MA. Minimalist industrial sound scapes mixed with harsh electronic spasms with a general theme of mankind's personal and impersonal relationship to the bomb. Coarse and ugly. Violent and depraved. An aural dedication to man's most prized weapon. Bombing's set will be 2 compositions spanning 15-20 minutes set. Stuff might break. It might get violent. Bring a helmet.