EE14: GM ELECTRONICS – TRASHWALKER CDR
1 August 2011
xdementia
7 Comments
*DELETED*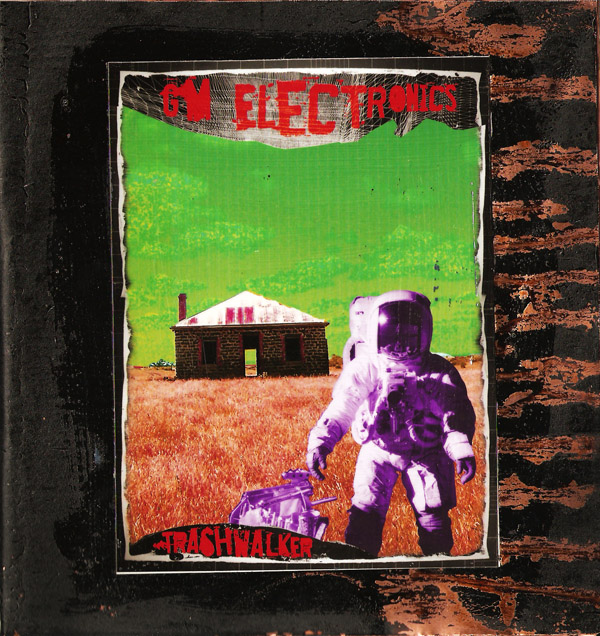 Trashwalker is a post-apocalyptic journey through waste strewn fields of radiated digital noise. GM Electronics presents a chaotic, multi textured, walk through, dark ruined streets littered with needles and debris, teaming with desperate characters seeking some sort of seedy appeasement. Originally recorded in 2004 and released in a limited edition first on I.N.K. Recordings, then once again re-released on Cyberblast Records. Now Existence Establishment once again revives this abandoned matter for yet another strictly limited run with all new artwork and packaging.
Snusmumriken [Excerpt]
Accelerated Decision-Making
Dismantled Emotions [Excerpt]
Flesh On Fire [Full Track]
Cryohydra
Trashwalker
Full color artwork in oversized 7″ baggy.
Strictly limited to 50 copies.
Housed in a sheet of tar-infused copper.
Due to the handmade nature, packaging may vary.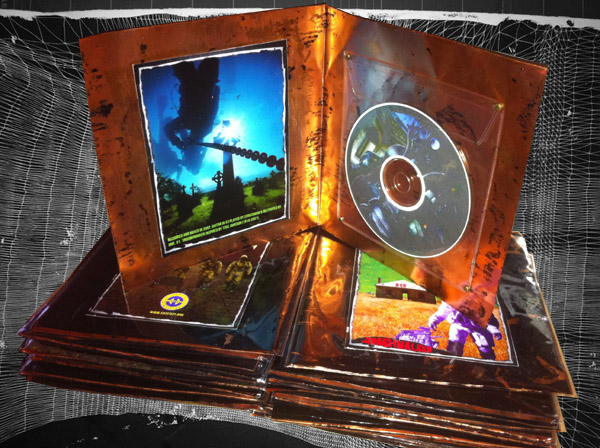 REVIEWS
From Heathen Harvest webzine:
GM Electronics is a decade-old experimental / noise project from UK-based sound explorer Jirí Balšínek. Though originally from Hustopece, Czech Republic, his relocation to Driffeld, UK seems to put him in place for a larger audience, even though the town is 30 miles from the closest city in York. Though you're more likely to know him through this project, Jirí also owns the Chimera record label, a label primarily specializing in mini CD-R editions (though it isn't unknown to do cassettes or regular CD-R's) that has released music from artists such as Sewer Election, Grey Holder (Hive Mind) side project Black Sand Desert, Joshua Norton Cabal, and Maim. It shouldn't be strange to note, then, that most of GM Electronics' output has been released via Chimera, however, his split with Black Sand Desert "The Heart of the Machine" was released on non-genre label Dada Drumming, as well as Trashwalker, which itself has seen numerous versions over the years, but more on that later.
The album starts out with a sporadic, glitched out, intense attack of sound manipulation. Chaotic is a bit of an understatement as it's constantly fluctuating on several levels, from the background low-end flubbing beef to the forefront's frantic bleeping and oscillating discordance. The sound is as uncomfortable and frenzied as a coke-head violently tearing through a pile of garbage in a decrepit, condemned apartment to find a half-used needle. Fleeting brutality that, ironically enough, is inspired by the late Finnish-born author / illustrator Tove Jansson and a specific anarchist, nomadic, anti-materialistic character (Snusmumriken) from her Moomin series. You can imagine a children's book character such as that would be highly inspiring to someone who ended up in the noise scene later in life. While Accelerated-decision Making is in the same spirit as the first track, it takes on more emphasis towards the low end and thus ends up sounding heavier and less spazzed out, though still chaotic in the sense of low-end guitar wankery. Dismantled Emotions takes on a stranger character though, seeking out strange harmony in the beginning before being bludgeoned to death by a whale of low-end fuzz. Distorted feedback ends up taking over with several elements of piercing high-end sound hiding towards the background. This track specifically has the psyched-out qualities that the imagery on the album artwork hints at. From deep sea grave fishing to intergalactic field-hopping, scouring for ancient artifacts in trash heaps, everything about Trashwalker just screams of filth in a surreal nature. Its the sick bastard child of French noise/trash artist Costes and Salvador Dali. Latter tracks feature a slightly more subdued sound, with Flesh on Fire incorporating a more pulsating sound whereas Cryohydra comes off as more of a scarcely-bending and occasionally flanged-out noise wall experience. The man saved the best for last however, with title track "Trashwalker". A gentle drone that builds into something concrete, thick, and full in character. Minor sound exploration can be heard throughout the track, always surrounding that drone, before folding in the end, shortly revealing another drone before quickly cutting off the existence of the sound.
The packaging for CD-R would be considered, by some, to be as unique as the noise within, and in that spirit, matches the theme perfectly. The CD-R comes housed in a 7-inch sized Plastic bag, which becomes slightly fused to the tar on the outside of the actual package, so remove with care. Inside is a gatefold-style slab of copper sheet that has been folded in half and painted over on the outside with tar, which, inevitably, ends up in spots on the inside as well. Full-color labels have been slapped on the front, back, and inner-left panel. All three labels feature surreal / psychedelic images from land, water, and space. A compartment for the CD-R itself is held into place on the inner right section by miniature versions of brass fasteners / brads. The copper itself isn't pristine, in fact being dented and warped in places. This combined with the feeling and look of the tar on the outside add to the "trash" theme, actually appearing as a dirty piece of discarded metal to the eye and to the touch. Careful, the corners can easily cut.
If you're going to be looking for old output from GM Electronics or Chimera, good luck. While there are some releases floating around in used lists around the internet, Chimera (and GM Electronics) took a lengthy break from the noise world that lasted from 2005 until early 2009. Whether or not any of the material from the early Chimera days will see a reissue remains to be seen, after all, Trashwalker itself has seen at least three separate issues now with Existence Establishment's pressing of the album. This beauty originally saw the light of day on the short-lived, small edition label I.N.K. Recordings before finding another home on Texas' Cyber Blast Records, which would unfortunately be defunct within a year. Now with Existence Establishment, this album has been re-released once more, and while Egan Budd's label is still running strong, the edition is available at only 50 copies. So whether you've been seeking this out for years, or want to be one of the few to own this strange work of Noise history, you'll want to act sooner than later. It's amazing that this one isn't considered a classic.
Rating: 5/5
From Terror webzine:
GM Electronics is a noise project from the Czech/England musician Jiri Balsinek. A decade of activity, with slight interruptions, and approximately 10 releases. Most of them were released in his own Chimera label. The last CDr of the project, Trashwalker, that is spinning in the player now, has been released via Existest Establishment label from USA. The previous version of this album was released in 2004 in Cyber-Blast-Records and if my information is correct, the original release has been made even some time before that via I.N.K. Recordings. So this album is being re-released for the second time already and I'm getting curious why is that.
About the packaging itself. It's not the first quite originally looking release from this label. CDr is packed in approximately 7″ size envelope, made from some sort of thin copper paper that is covered in tar from the outside. This isn't something that you can stare and adore, but it fits the concept of the release perfectly. I don't know if the sound is different from the previous versions of this album because some of the track titles are different, but I think I've read somewhere that it has to do something with the artist just changing the titles and that's it.
The most important thing is that the first track title is unchanged – Snusmumriken (inspired of course by Tuve Janson). You can see what the whole album will be like from the first track because the formula does not change that much – the sound is chaotic, multilayered, digital harsh noise. For those who are afraid of the word "digital", I'd say that despite the clear sound, the album and compositions in it are truly superb and I've listened to it quite a few times already and didn't get bored yet. It's the sort of chaos that fascinates, does not go past the boundary to nonsense and at the same time keeps the intrigue and interesting sonic structure.
From the second track I already get the parallels with Michael Page, but Page is not that intense and perhaps slightly more atmospheric where GM Electronics travels the distorted post apocalyptic reality where only survival instincts and need for moving forward are active. And since we talk about atmosphere, emotions and feeling, the most melodic and weird track in the album is Dismantled Emotions. Distorted melody of some string instrument flies above the thick array of noise. Such a weird mood.. It sounds as if chamber orchestra would have been isolated in the psychiatric ward and right before the demolition of the building, they start playing some sort of a track all together. Lovely insanity that continues and gets more intense in "Cryohydra" after a rather boring track "Flesh on Fire". Massive textures of sound and growing suspense with roaring sirens in the background. The loop of time right before the death where you suddenly find yourself fighting with all the hydra heads of your own mind.
The disc is finished with the most silent title track "Trashwalker" – manipulations with synth and pieces of noises and various sounds placed above the static note. It seems like the hum in your ears after such a noisy album – a pleasant silence or uncomfortable feeling… All in all it's an interesting work. I can't see it becoming the new classics of the genre or praise it for innovations, but I had a good time listening to it. And the packaging is fantastic. Digital apocalypse among snusmumriken…
From Black Audio webzine:
Packaged within another of EE's DIY copper and tar infused amalgamations, we have six tracks of OTT digital noise and electronics. 'Trashwalker' was previously released twice on other labels. I am scratching my head as to why this needed a third outing, but I suppose if there is a market for this then why not.
GM Electronics represent the more visceral, less vocal driven affairs that sit borderline between PE and out and out noise. There is little on here to take on board as actual 'songs', rather than something to clean out the cobwebs or brutalise your neighbours.
It would be all too easy to cast aside this project and indeed this release. I thoroughly understand where 'Trashwalker' is coming from thematically and there isn't much on here that wouldn't sit well within any self-respecting all-out-noise addict's collection. However, as an album to actually speak about musically, there is little to differentiate the songs on a track-by-track basis and more emphasis for me should be placed on the collectable nature of this limited product, rather than anything pleasurable to listen to.