Buildings and Mountains – Underwater C10
30 September 2011
tankakern
4 Comments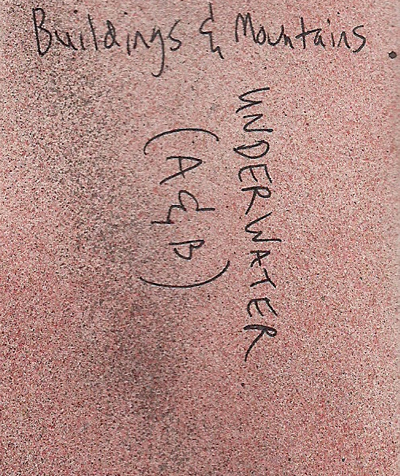 Buildings and Mountains – Underwater C10
Blood Dirt Records
This cassette is possibly one of the most mysterious pieces of sound art to come my way. With minimal cardboard packaging with the only identifying factors scrawled in pen, "Underwater" by Buildings in Mountains represents a fierce DIY aspect that is only complemented by the weird, tweaked out basement sounds featured here. The sound here is mostly drone with fleeting ambient sounds and weird, ritualistic gongs and bells. Subtle textures weave their way in and out of the sound and create a twisting, psychedelic experience.
All of the sounds here are very analog, warm, and concisely composed without losing any of the homegrown electronics charm found.  There isn't much harshness to be found here, though Side B is considerably noisier than Side A. Mostly what we have here are dizzying, cascading sounds that tastefully weave their way through this short cassette. The duration of the sections is about perfect and the transitions are flawlessly executed. Unfortunately, the total length is only about ten minutes; I was left felt wanting.
Overall, "Underwater" is a solid release, but Buildings and Mountains is a ghost act. I could find nothing even referencing this project. Highly mysterious indeed.
| | |
| --- | --- |
| Composition: | |
| Sounds: | |
| Production Quality: | |
| Concept: | |
| Packaging: | |
| Overall Rating: | |