Ava Mendoza – Shadow Stories CD
5 June 2010
xdementia
One Comment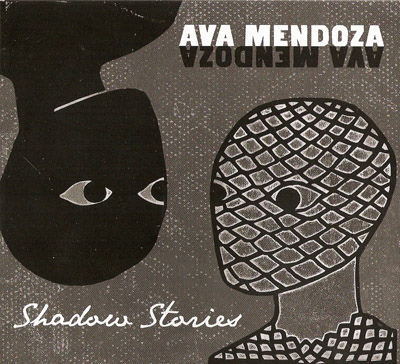 Eva Mendoza – Shadow Stories CD
Here's an album I was very close to not reviewing. Eva Mendoza is a guitar player who plays this kind of bluesy, folk, Hawaiian music on Shadow Stories. It's "solo" guitar music with perhaps some multi tracking here and there. I'm not a guitar player but I would guess she is a damn good guitarist. The songs are relaxed, peaceful, and daydreaming. Something I wouldn't normally be too into but Shadow Stories doesn't seem to be showing off. Rather the songs here are perfect for sitting on the front porch on a nice warm day and enjoying a cold beer.
If that was all Shadow Stories was though, I wouldn't be reviewing it here. After about 20 minutes of such laid-back songs "The Furious Harpy Who Followed Me Everywhere" kicks in and begins with the same go lucky guitar riffage that can be heard in the rest of the album. Within 5 minutes though it has worked itself up to a shimmering texture of warbling guitar strings, harmonic droning feedback, and delayed bits and pieces sparkling on the edges. By the 8 minute mark the change in atmosphere is more than noticeable and quite welcome. Following this are two more tracks along the same lines "Penumbra: The Age Of Almost Living" and "In My Dreams." These tracks continue to evolve, sometimes subtly working themselves into shadows of the more bluesy melodies but in a much stranger state. Like hazy drunken memories returning after a hung over recollection.
And then, like a smack in the face, it's all over. "Goodnight, Irene" is back to the guitar jams. There is quite a contrast between these two styles of tracks, but somehow Mendoza still manages to make them fit. Aurally, they stick out like a sore thumb but conceptually they bring Mendoza's intentions to a much deeper place.
The only other artist I'm reminded of by Mendoza's music is that of Jack Rose, though this is quite different. Less complex, less otherworldly, but a similar vibe. Sometimes the guitar riffs get a little flashier than they need to be but there's never a time when I outright cringed. Mendoza manages to keep her hands from showing off and focuses on the melodies and elaborations instead.
Not something I'd normally listen to, but good for certain occasions. Recommended for guitarists who like to hear some laid-back guitar work, people who enjoy music with a bluesy or Hawaiian vibe.
| | |
| --- | --- |
| Composition: | |
| Sounds: | |
| Production Quality: | |
| Concept: | |
| Packaging: | |
| Overall Rating: | |