Reviver – Ocular Prolapse CSLOOP
27 June 2010
xdementia
No Comment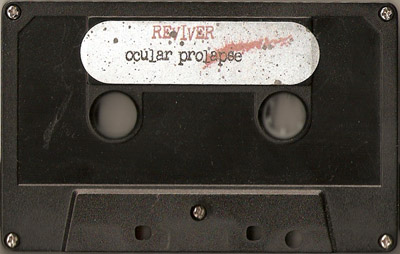 Reviver – Ocular Prolapse CSLOOP
Self Released
Here's a strange one. I've never quite seen or heard anything like it before. It seems to be a modified cassette tape featuring a 30 second loop containing Reviver's token death drone sounds. All black, with no packaging and a simple label this is as minimalist as minimalist gets.
The loop is unfortunately broken up by about a half second of silence. It is how these mechinations work. The sound here is a low synth growl with some kind of subtle chant in the background but it forms quite a hypnotic repetition when listened to repeatedlty. As far as optimal listening goes I would suggest perhaps listening to the loop for 5-10 minutes to get the full effect. Any more of that would be overkill, any less an exercise in futility.
At the end of the day, I'd have to file this under "experiments". No pass/fail either, it just kind of is. You accept it for what it is or you denounce it. Whether or not Ocular Prolapse actually has any artistic value is completely left up to what the listener is able to get out of it.
| | |
| --- | --- |
| Composition: | |
| Sounds: | |
| Production Quality: | |
| Concept: | |
| Packaging: | |
| Overall Rating: | |