Kave – Hidden Fields 3″CDR
28 June 2010
xdementia
One Comment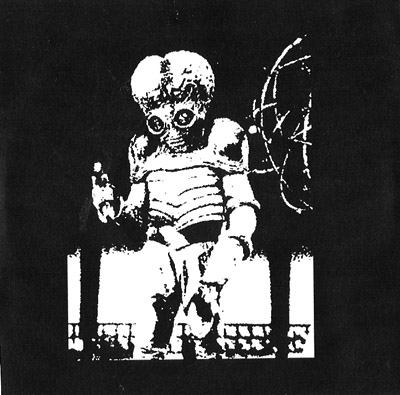 Kave – Hidden Fields 3″CDR
This is the first I've heard of the project Kave, and with little-to-no information provided in the booklet – besides that the tracks were recorded in 2007 – Kave remains quite a mystery. I don't think it's wrong however, to assume that these sounds have something to do with outer space, possibly the existence of aliens or something along those lines.
The sounds here aren't too far off from what I could imagine might be the hum of an alien spacecraft if I were to be inside it. Low drones, alternating, perhaps it's the sound of some kind of machine, perhaps even the elongated breaths of a sleeping giant. I keep waiting for the anal probe, but Kave remains in the shadows. Ominous, mysterious.
Looks like that dreaded probe won't be needed though as in the second track Kave instead brings me into a much more peaceful state. Perhaps these aliens are friendly after all and just wanted to take me on this joy ride through the endless breathtaking cosmos. This is total ambient/drone that is almost quite light in places. Floating on the backs of meteors, grabbing the tail of a comet as it's passing by, or at least imagining that from my fog-lit pod in this alien craft.
The overall sound reminds me of Pulse Emitter, Northhaunt, or perhaps even Inade. Deep space music, ambient drone, echoing wails of loneliness lead to a peaceful end. Kave doesn't really bring anything new to the table here but instead offers up a solid 20 minute bed of drones to keep the aliens mesmerized while you slowly escape the reaches of their probe.
| | |
| --- | --- |
| Composition: | |
| Sounds: | |
| Production Quality: | |
| Concept: | |
| Packaging: | |
| Overall Rating: | |