TwoDeadSluts OneGoodFuck – Champagne and Biological Women 7"
1 July 2010
xdementia
One Comment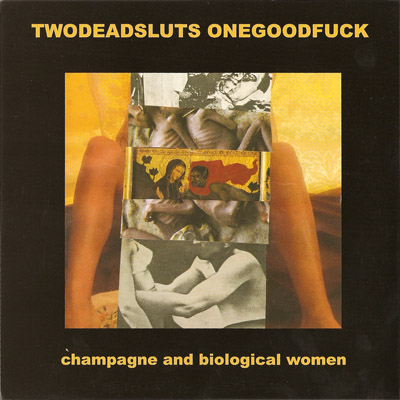 TwoDeadSluts OneGoodFuck – Champagne and Biological Women 7″
Here is an absolutely depraved record from the annals of the Bloodlust! catalog. The artwork and titles really put things in the right mood for the sounds so upon spinning this little gem I'm all revved up for some totally sickened noise. As with my classic complaint about TwoDeadSluts OneGoodFuck, it's too short! I just want more more more.
Side A builds slowly with "Covered in Shit" and works into a heavy rhythmic power electronics frenzy. All lasting probably 2 minutes in total. Immediately noticeable is the HUGE production here. All the details of this filth can be heard, all the way down to the most miniscule grains of grit. "Down in the Dirt" fades in with a low-end pulse that breaks into a metallic texture of alternating machinery. Once again, barely hitting the two minute mark but hitting hard enough that it won't soon be forgotten.
Perhaps the most crunchtastic track here is the opener on side B "Still Erect (…and definitely not leaving)" that features a core of blown-out distortion as the main layer here with blasts of the slut's token feedback layers on top. "Mark Solotroff Built My Hotrod" being an obvious reference to Bloodlust!'s label exec features a heavy glassy drone, and tons of feedback layers.
Of course these tracks can only be complete with the most sickened, over the top vocals to appear in power electronics. Pitched down, pitched up, distorted, and generally mangled to all hell it's obvious that TwoDeadSluts OneGoodFuck has one goal: to create the most insanely noisy heavy blast of noise that is possible. My analysis: that they've come damn near close.
| | |
| --- | --- |
| Composition: | |
| Sounds: | |
| Production Quality: | |
| Concept: | |
| Packaging: | |
| Overall Rating: | |