Noveller – Wolf 7"
11 July 2010
xdementia
No Comment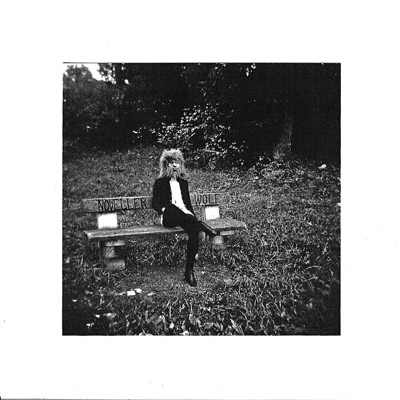 Noveller – Wolf 7″
Here's a quintessential 7″ from Noveller, Sarah Lipstate's ambient/noise guitar project. This is record was released in between her two latest full lengths and the tracks work well as they compliment each other. The material is a bit more detailed then what appeared in Red Rainbows which clearly shows that Lipstate is stepping up her game, capturing the listener's intrigue more efficiently then she did in the full length.
The textures on Wolf are dense, but don't suffocate at any time. The harmonies are much more apparent making the material a bit more accessible. Side A features the track "Hair Tapes" which uses blurry organ sounds, with shimmering harmonies and features a low kick driving the piece forward. At 33 rpm the 7″ really let's us sink our teeth into the material here with Lipstate using the entire running time of the vinyl for her track times.
"Redgraves" takes up side B and is a little shorter and simpler but just as effective. The blurry organ tones are back, this time seeming to tether around a bit more. The plucked strings which accompany the drones bring me into what feels like a drug-induced fairy tale, one with just enough of a creepy edge to make it quite surreal.
The artwork is simple and effective with photography reminding me of and old psych record. It would have been great if it was color, but the black and white does just fine. There's some sparse information provided on the sleeve but nothing erroneous. Overall an excellent release. I haven't yet heard Noveller's latest effort "Desert Fires" but if it follows suit to the material on Wolf I'm sure it's something to look forward to.
| | |
| --- | --- |
| Composition: | |
| Sounds: | |
| Production Quality: | |
| Concept: | |
| Packaging: | |
| Overall Rating: | |