Deterge – Parlous C10
11 July 2010
xdementia
No Comment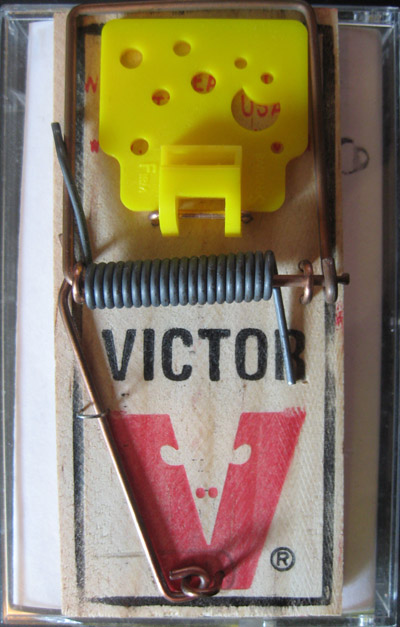 Deterge – Parlous C10
Hell yes. Here's a great shorty tape brimming with harsh synth noise, power electronics and some hardcore-styled vocals on top, think Charles Bronson! Most noticieable is the mouse trap glued to the front of the package! Charming, D.I.Y., original, and hard-fucking-core!
Side A features the track "Daily" which thrives off it's fluttering synth core. Blasting along the edges are layers of noise which are soon joined by screamed vocals delayed into the wind. Short, simple and to the point. Harsh, but well composed and layered. The tape isn't the best quality but the (lack of) quality adds the overall aesthetic.
Side B is broken up into two tracks the first "Tail Caught…" has this neat little reversed rhythm going on with shots of heavy noise blasting in. Pretty soon the noise is sustained, then start, stopping, wishing, washing as it's thrown through various eqs, filters, and distortions. "…Between My Legs" follows with some excellent high-pitched tones mixed with low motorized drones. It's only about a minute or two long and stays pretty much the same throughout, acts as a good solid outro to the harsh outbursts featured here.
I really dig this tape. Short and harsh yet intelligent and tasteful. Would love to hear this artist do some longer tracks and something with perhaps a little higher quality production, but this proves to be a great introduction.
| | |
| --- | --- |
| Composition: | |
| Sounds: | |
| Production Quality: | |
| Concept: | |
| Packaging: | |
| Overall Rating: | |