Halo Manash – Taiwaskivi CD+DVD
13 July 2010
xdementia
No Comment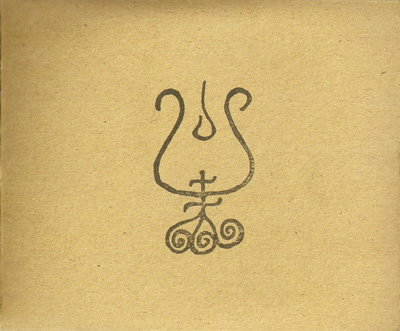 Halo Manash – Taiwaskivi CD+DVD
Taiwaskivi is Halo Manash's latest effort and it picks up where Am Kha Astrie left off, despite having a limited CDR – that apparently I was not deft enough to purchase in time – squashed in between the two last CD releases. If you have no idea what the true sound of Finnish ritualistic ambient is like, I strongly encourage you to keep reading this, for you are truly missing out.
Deep gongs, disembodied chants, rattling organic objects, rocks, sticks, chimes. Hidden ceremonies, secret spells, spiritual awakenings all can be found within the hallowed halls of Taiwaskivi. Through the first three tracks "Crossing-Over – Wings Rise Radiant", "Burial – Self-Flesh Given As Offering To All", and "Summoning – Toward Cardinal Points, Into All Worlds" all is calm, the sound builds and is oh-so-slow but also organic. The album actually needs to work up to "Revealing – The Celestial Crown Reflecting Rays Of Sol And Shade" where the waters finally break about half way through. Each of these tracks are anywhere from 6-10 minutes long but they string together seemlessly, flowing and ebbing like only these earthly yet somewhat unnatural ceremonies can.
After the explosion of unnerving harmonious vocals and drones occur in "Revealing" the album is a bit noisier and unsettling rather than creeping and peaceful. But the outburst in Revealing also kind of acts as the peak of the album, where the sound seems to dip down from there and slowly become less and less active until finally "Consummation – Bathed In Sacred Fire" the last track breaths new life into the hunt once again. Yet another shimmering drone fest of shifting synths and humming vocals.
The DVD that accompanies the album is not too dissimilar to the video that came along with Halo Manash's r.A.S.H.n.k.a-RA album, although this time everything is dimmed to a sepia tone with heavy effects on the film to make it look like it's decaying. Personally these effects don't really work for me as they make viewing the gorgeous scene somewhat arduous. The effects also seem a bit forced, but luckily the same solemn feel remains, the rituals, the natural landscapes. All are still quite beautiful and compliment that sound, which might be an exact copy of the album, or it might be a remix to shorten it a bit. It's hard to tell.
The only complaint I have for the album is that the low-end in the production is much too heavy. I had to turn it up quite a bit to catch all the detail in the recording and that forced the lower frequencies to simply reek havoc on my speakers. Too much low end can really ruin a recording as delicate as this. Even though I do enjoy the new mellow sounds of Halo Manash I do sometimes wish for the more raw, earlier days of noisy drumming, feedback drones and howling calls.
Halo Manash is slowly changing but still exploring the niche that they have carved out for themselves which is, if not unique at least over a line of quality that most projects cannot bear to tread for very long. Taiwaskivi proves to be yet another essential chapter in the ongoing book of obscure texts that these two have crafted.
| | |
| --- | --- |
| Composition: | |
| Sounds: | |
| Production Quality: | |
| Visuals: | |
| Concept: | |
| Packaging: | |
| Overall Rating: | |