Mutations In The Gryd – Seance For Mutation/Calibration Gryd C31
14 July 2010
xdementia
No Comment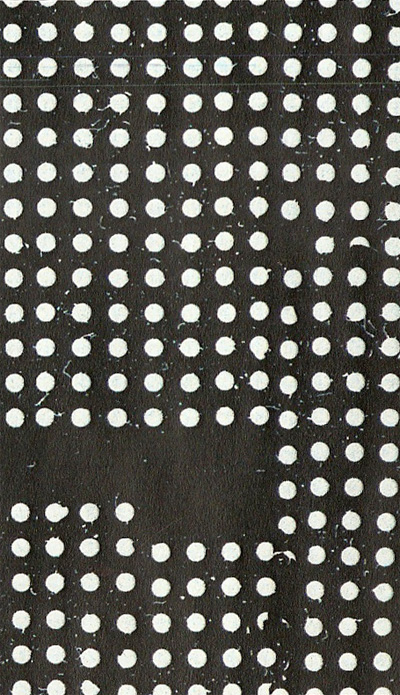 Mutations In The Gryd – Seance For Mutation/Calibration Gryd C31
Here's a synth duo from Boston good friends of mine in fact. They play 2 synthesizers together with the result being some vaguely structured improvisational experimental synthesizer music. The tape is of good quality with some subtle artwork that I really appreciate.
Side A has these warm throbbing tones that are almost alternating chords. There is a little delay and a lot of noisy lo-fi overdrive in the mix. At times the space seems a little empty, kind of reminiscent of the artwork. Like an imperfect grid, something just a little off in everything that appears. Most of this side feels a bit empty as far as the layers go, I feel like there needs to be something more rhythmic, not necessarily a beat, but it I could see that working as well. Luckily the third track on this side offers a little more depth with it's "soft noise" backdrop and popping harmonic synth lines.
Side B contains tracks that are more effective. The first using synth sounds that compliment each other quite well to form an almost Asian sounding tone and atmosphere. It's layered, and moving, and offers a unique angle on synthesized music. Almost in the direction of Emeralds but more experimental and repetitive. The last track is the most evolved here with a warm warbly tones and pinging synth notes. Creating a strong ending to the release.
Although this album was released well before, I find that the sound similar in style to The Knife's "Tomorrow, In a Year" opera. Without the vocals of course. I think this material could have been a bit stronger but I think the less heavy-handed approach is intended here. It seems to work on the B side, but not so much on the A side. I guess you take some bad with the good.
| | |
| --- | --- |
| Composition: | |
| Sounds: | |
| Production Quality: | |
| Concept: | |
| Packaging: | |
| Overall Rating: | |