D/S/Miller/Hunted Creatures – Split C20
15 July 2010
xdementia
No Comment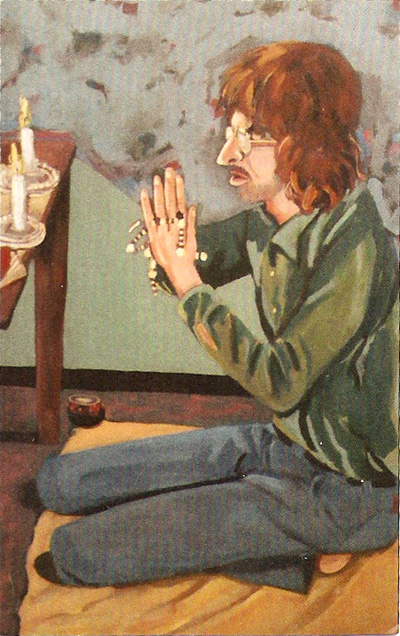 D/S/Miller/Hunted Creatures – Split C20
Another great 'lil split tape for me to spin this time with 2 more ambient/experimental artists that seem to know their stuff quite well. The printing is nice full color artwork with a Jon Lennon lookalike dude on the front holding rosary beads or something? I dunno. Standard tape packaging, nothing special here.
D/S/Miller is up first with "Blowing Out a Match", a nice wafting, floating drone track. It's got some glitches along the edges and just a very vague touch of electronica to it. I really dig the material, the sounds are well separated and it reminds me of Fennesz. The main track is probably about 6 or 7 minutes long and following it is "Mesocyclone" a short little outro which isn't quite as effective but it doesn't detract from the tape, it's just kinda "there".
Hunted Creatures is on Side B with one long track entitled "Ode to Spunky (Saved)". Kind of wondering what this means, is Spunky a pet? A person? Did they pass away? What were they saved from? The track plays out almost like a narrative with cycling drones starting out somewhat ominous and then falling into different sounds colliding in on each other only to emerge with harmonic synth lines almost bordering on a melody. The clusters of tones get more discordant, sometimes drifting into harmony again but the remainder of the piece is filled with these warm organ tones. My only complaint is that it attempts to maybe become a little too musical at times, where some of the more interesting sounds at the beginning are left in the dust.
All in all this tape is a great little listen. Similar in feeling to something that could be heard by Fennesz or some of the lighter glitchier ambient/experimental projects. In one sense the release is kind of generic, in another it has that "rainy day" atmosphere that is perfect for just such an occaison.
| | |
| --- | --- |
| Composition: | |
| Sounds: | |
| Production Quality: | |
| Concept: | |
| Packaging: | |
| Overall Rating: | |