Fire in the Head – Carrion Wind CD
15 July 2010
xdementia
No Comment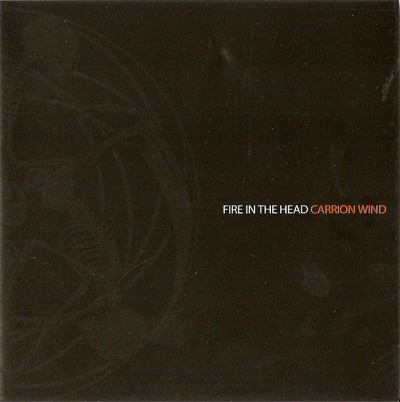 Fire in the Head – Carrion Wind CD
Michael Page is a man of many faces and subsequently sounds. Some may be more familiar with his ambient Sky Burial project, others with his harsh noise project Irukandji. Still others may just know him as the fun loving 80s music fan and front man of brutal power electronics unit Fire in the Head. Of course, people aren't always so easily pigeonholed and Mr. Page makes it especially difficult by releasing this over 60 minute track of dense drone and experimental sounds, veering away from such relentless aural attacks that Fire in the Head has delivered previously.
Carrion Wind is a well-varied journey through dark times in a plethora of spacial realms. Sometimes the sounds are blurred together, far away seeming to be encased in glass and almost untouchable. In moments they can be in your face, glassy, gritty, or ominous. Although Carrion Wind is seldom, if at all peaceful or relaxing. There is always an intense amount of movement hear, always a feeling of unease.
To compare the sound here with something I've heard previously it is easiest to pin the tail on Sky Burial, Page's other project. Also reminsicent is the sounds of Bestia Centauri, or perhaps even Nick Parkin, though this isn't quite as hi-fi as the latter. However, the scope of this track is commendable because not only is Page able to keep me surprised and curious at every step of the way, he is even able to mold the atmosphere into a feeling that isn't palpable, perhaps being even too abstract for words. This lack of tangibility I consider a good thing, because it's using the power of sound to make us feel what just cannot be expressed through other forms of communication.
My only compalint is that the production sounds a little lo-fi here and there. Some of the textures almost having a low bit-rate quality to them, but Page tactfully makes up for this by presenting synthesized sounds which are more hi-fi, that drift and eventually take over the space only to fall back again and let the field recordings breath a bit more.
The release is a step in another direction and in that, also a step forward. Although F/I/T/H may be a currently defunct project Page proves that he still has more to say. I'm certainly happy about this, and I'll be waiting with baited breath to see what he's up to next.
| | |
| --- | --- |
| Composition: | |
| Sounds: | |
| Production Quality: | |
| Concept: | |
| Packaging: | |
| Overall Rating: | |