Retribution Body – Retribution Body CDR
19 July 2010
xdementia
No Comment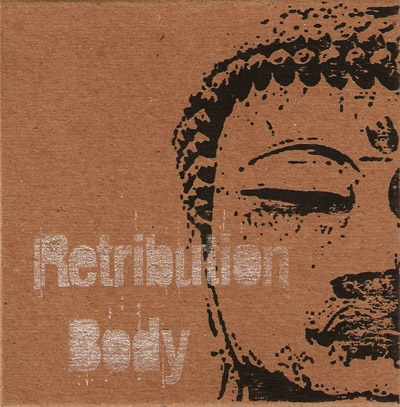 Retribution Body – Retribution Body CDR
Retribution Body's debut self-titled CDR is a winding journey through mantra-like modular synthesizer drones. Being influenced by Buddhist philosophy and thought, it's no wonder so many of these tracks seem to offer a moment of stasis, of balance, and of a certain stillness produced of course through the vibtration of soundwaves, tactfully revelling in the physical irony of such an act.
Although stillness is a factor here, there are signs of evolution and change which can't be ignored. The sounds are well devoloped and the pieces composed are minimalist and thoughtful. There is barely ever more than 1 or 2 layers at once but luckily the way the sound morphs from one movement to the next provides enough meat to sink my teeth into. The moods here range from almost peaceful to sometimes sinister and loathing, but most often a neutral, floating, and meditative atmosphere permeates the disc.
The production here is crisp and clear which, because of it's minimalism isn't too surprising. What is surprising is that Retribution Body quite effectively employs many intense low-end drones which I find to be a rarity in drone and noise – even though a lot of artists try.
An obvious complaint here would be that at times the disc is ultra slow and barren. It can be quite dry, but Retribution Body has a knack of working out these moments into something interesting, either by mutilating the sound into unexpected realms or building up the intensity to extreme heights, while still managing to keep a heavy hand on restraint. At no time does the sound here burst into full-blown belligerent noise or apathetic wankery.
The material on the disc is most easily comparable to the tones of Pulse Emitter, or D/A/A/D or any other of the modular-synthesizer crowd. You won't find unexpected sounds here if you are already familiar to modular synthesized music, but what you will find is a fresh take and some effective compositions created from these elements.
| | |
| --- | --- |
| Composition: | |
| Sounds: | |
| Production Quality: | |
| Concept: | |
| Packaging: | |
| Overall Rating: | |