Martin Bladh – Study for a Theater of Cruelty CD
19 July 2010
xdementia
No Comment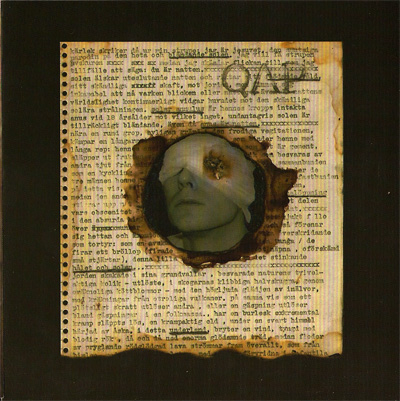 Martin Bladh – Study for a Theater of Cruelty CD
Study for a Theater of Cruelty is a solo outing from IRM frontman Martin Bladh. Adorned with his token collage work, the art is succinct yet somewhat darker than the sounds represented on the disc. At 5 tracks and roughly 35 minutes Bladh takes the listener into an electronic drone soundscape akin to Birchville Cat Motel, Concern, or even Hermann Nitsch.
There are moments when things get kind of noisy the first being the start of track 2 where a high-pitched whine joins the monotonous organ drone. All the tracks are untitled as far as I can tell here. Each track has it's own stifling bed of constant sound with as little as only certain harmonies changing from one track to the next. Not sure why I don't get completely bored from this material but there's something here that keeps me interested and I can't quite pick out just what that is.
Maybe I just appreciate a successful drone record for what it is. The basic texture beds are like an organ, but perhaps with a little bit more of a metallic twang. It's not until the last track – a 15 minute monolith – that some subtle screeching feedback textures start to drift in. Nothing ear shattering though, it's all meant to blend in and Bladh excels at it without breaking the fragile stasis that he's built up. Finally toward the end the layers that have built up are stripped away and we're left with the rotating harmonies once again, dying into the light.
I can imagine the disc would appeal more towards the academic crowd than it would to the industrial or power electronics fans of IRM, but I do enjoy this disc just for what it is. It's simple yet effective, nothing showy or too pretentious, combined with the art and seemingly intense concepts outlined throughout the booklet Study for a Theater of Cruelty presents depth and elicits a persistence that ultimately pays off to the listener.
| | |
| --- | --- |
| Composition: | |
| Sounds: | |
| Production Quality: | |
| Concept: | |
| Packaging: | |
| Overall Rating: | |