Regicide Bureau – Zugzwang CDR
30 July 2010
xdementia
No Comment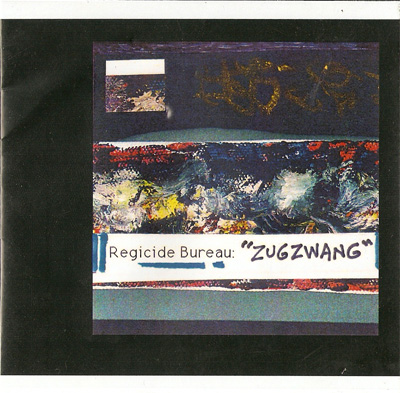 Regicide Bureau – Zugzwang CDR
Side of the Sun Recordings
The thing about Zugzwang is that it's not a particularly bad disc, it's just not good. This is a disc of over an hour's worth of material all apparently recorded live in St. Louis Missouri on 7/18/09. It pains me to think that this dude played this set that was almost one fucking hour.
The production really holds this disc back. It's obviously a room mic that has recorded the set so it kind of sounds like everything is being played in a cinder block room with a linoleum floor, which it probably was. In addition, the style here has all the sounds mashed up together being very mid-rangy, and dense. When frequencies actually do spread out a bit, most of the other layers are dropping out.
The pacing is just rough, mainly due to the extensive length of all these sound-alike tracks. Even though they may not necessarily sound the same, their similarity is due to the production. There is some breathing room finally provided in the 4th track which is quite welcome but there is just so much wanking around.
Under different circumstances and with much better production I think I might really enjoy listening to something like this. As it stands this just does not make the cut. Reminds me a lot of an old project I used to review called Ghoul Detail. So close to having potential. I'd really like to hear a studio release so I could come to a more precise conclusion on this act.
| | |
| --- | --- |
| Composition: | |
| Sounds: | |
| Production Quality: | |
| Concept: | |
| Packaging: | |
| Overall Rating: | |