+DOG+ – Acoustic Shadow CDR
30 July 2010
xdementia
No Comment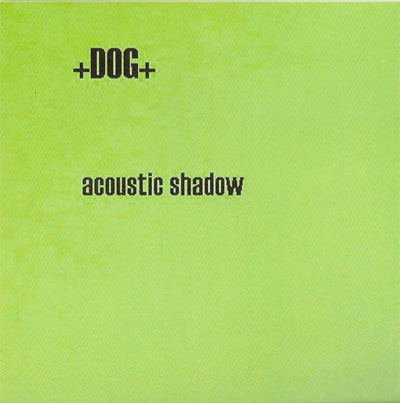 +DOG+ – Acoustic Shadow CDR
+DOG+ is a project that has been active for quite some time now, 1994 according to discogs. Acoustic Shadow is their most recent effort and it seems +DOG+ has got the idea by keeping this puppy around the 30 minute mark. What to expect here is mostly buzzing feedback and synth walls with blasts of noise, amplified and manipulated acoustic junk percussion, and layers of electronics.
The production on acoustic shadow retains a very lo-fi tone but it's obvious this is intended and it works on a certain level. The tracks start to sound very similar after a few have gone by and this is probably due to +DOG+'s formulaic song structure which seems to be: a bed of buzzing drones, add noise blasts, add some kind of rhythmic element. Each track averages about 3 layers.
As far as tracks go, I might have mistaken the opener "Watching and Waiting" for something by Atrax Morgue, and when the follower "Travel Triptych 1" kicks off I hear a bit of …Today I'm Dead in there. Things continue in a way that is quite monolithic, while including just a touch of monotony as well. But finally sounds, and experimentation converge in "Oakland Stomp" with some great junk percussion reminding me a bit of SPK.
I do enjoy the variety of sounds on the disc with the strange almost distorted synthesizer singing? in "Raining Maggots". +DOG+ is definitely onto some interesting stuff here. I feel like every time I check this project out I've found that I've underestimated them just a bit. One incongruous issue here is the artwork of the release is sorely lacking. With a cheap stock-font and no artwork I wonder how Love Earth Music can justify making this available on CDR. Acoustic Shadow still isn't +DOG+'s big breakthrough but it is a solid album of varied electronics which stay true to old school industrial roots and contains just enough experimentation to keep things interesting while avoiding the realms of wankery.
| | |
| --- | --- |
| Composition: | |
| Sounds: | |
| Production Quality: | |
| Concept: | |
| Packaging: | |
| Overall Rating: | |