The Vomit Arsonist – Reason C30
9 August 2010
xdementia
No Comment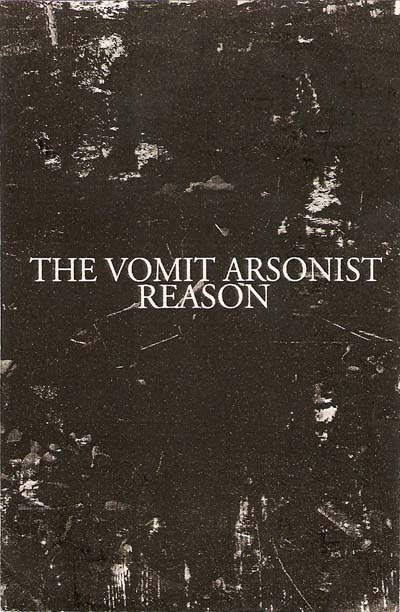 The Vomit Arsonist – Reason C30
Black on black, black tape with a black label and a black spray painted cassette case. The Vomit Arsonist presents some fucking bleak shit with his latest release "Reason" coming from the Nil By Mouth camp. Packaging is well thought out as usual and creative in a D.I.Y. kind of way. I really dig all the interesting things Nil By Mouth does, and this release is no exception because it is packaged in a fused black plastic bag, somewhat reminding me of a body-bag.
The material that TVA presents here is some sickened death industrial/power electronics. Side A kicks in slowly with "Lifeless" which features droning low-end sonics and is soon joined by scrap metal noise, screamed PE styled vocals, and subdued harsh noise textures. In the second track "Environment", the wall of intense noise builds to a climax and falls back to reveal some synthesized melodic lines. It's a good change up and let's the first side die down with emotion.
The opener of side B "Existence" comes right in where the last track left off with more melodic synth lines soon joined by subdued noise, this time much reminding me of Navicon Torture Technologies, good! Things become more rhythmic and flow into the death industrial realm with blasts of humming radiance in "Purpose", a short but succinct track which helps the album flow with it's change of pace. After a creepy sample "Ten Suicides" blasts in working up to an undulating wall of quasi-rhythmic noise pulsating and making use of the thick textures and growling vocals TVA seems to specialize in.
Major complaint here about the production quality which is very lacking in the upper-mid and high frequency range. The bass is way too heavy for my taste and the whole recording comes off as being very boomy which takes away a lot of the edge this material could have. Also, there are some weird mixing choices in here, one being the weird bed of noise that exists before the drone in "Lifeless" fades in, which made me think that I had a faulty wire somewhere. Another being the sample used on side B which sounds much louder than the tracks. To TVA's credit though "Ten Suicides" does seem to almost work up to a competitive volume at it's climax.
Despite playing with TVA numerous times I think this may be the first release I have heard from him. Definitely a good starting point, and a release I enjoy. As with all Nil By Mouth releases the presentation is great, and the sounds live up to the darkened lo-fi aesthetic.
| | |
| --- | --- |
| Composition: | |
| Sounds: | |
| Production Quality: | |
| Concept: | |
| Packaging: | |
| Overall Rating: | |