Propergol – Ground Proximity Warning System CD
16 August 2010
xdementia
One Comment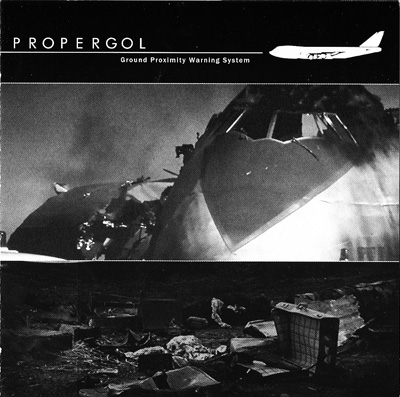 Propergol – Ground Proximity Warning System CD
This is actually the first complete Propergol album I have immersed myself in and I believe it is one of his later efforts. Ground Proximity Warning System predictably explores airports, airplanes, flight, and subsequently all the many things that can go wrong with this system. An easy way to describe Ground Proximity Warning System is to say it is the evil twin of Brian Eno's Ambient Music for Airports. And let me say I'd much rather be listening to this when preparing for the flight, although I doubt many others would share my opinions on that one.
The tracks are definitely well composed and Propergol provides a genre bending experience here with a combination of death industrial, electro acoustic, and dark ambient to form a well balanced arsenal of sounds and atmospheres. The disc starts off with some noisier textures, washes of sound morphing into sudden currents of noise, mechanical textures and airport sounds. Blasts of air jets fly overhead while cabin announcements drown into nothingness. At first the spoken word samples help to heighten the atmosphere but later in tracks like the title track it tends to be a bit overbearing and sounds a little canned.
The remainder of the album delves deeper into more detailed textures and equipment exploration. With these sounds of bubbling synthesizers, high-pitched but controlled ringing metallic textures, computer beeps and blips, seething air and subtle harmonic shifts featured in tracks titled "Electronic Flight Information System", "Portable Breathing Equipment", and "Flight Data Recorder" Propergol makes very clear that none of these machines are helping you this time.
The only real complaint I have is the overbearing use of spoken samples here. I feel like these tracks would stand better without such elements that seem to beat you over your head with their obviousness. However, these radio transmissions do have much to do with our everyday transport system so it does make sense that they're there. Overall this is a creative endeavor and employs a unique set of sounds, composition, and interpretation that is rarely heard in the experimental underground.
| | |
| --- | --- |
| Composition: | |
| Sounds: | |
| Production Quality: | |
| Concept: | |
| Packaging: | |
| Overall Rating: | |