Antoine Chessex – Fools LP
22 August 2010
xdementia
No Comment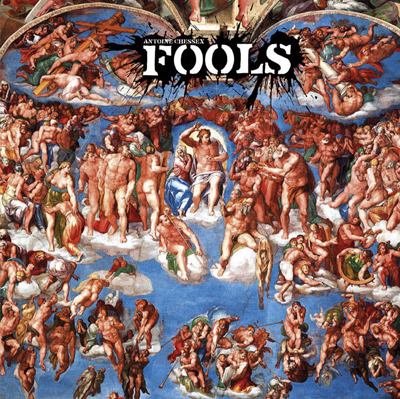 Antoine Chessex – Fools LP
Antoine Chessex is a Berlin-based musician exploring the world of noise with – love it or hate it – a saxophone. Luckily, you'd barely have any idea this is derived from a sax in any way shape or form by merely listening to Fools but the live photo on the back and the credits to Chessex for "tenor sax, amp & electronics" says it all. I am perfectly ok with this because after experiencing his intense miasma of sound live, I just had to pick this LP up.
Side A consists of one long track that entitled "The Machine is Awake". A simple, effective title and a track that features sounds that reflect the simplicity and intensity that the title alludes to. Kicking off as a fuzzy lo-fi drone, the first few minutes are spent letting the drone slowly emerge and resonate. After a short pause Chessex is up to no good with an intense slab of thickened noise. Just when I thought the thickness has reached its maximum viscosity, yet another roar of noise – easily mistaken for a harsh vocal attack – rages in and takes me by surprise. The remainder of the track contains thickened walls of sludgy, ugly, monolithic noise and alternates as a whole entity very often. Ending the track succinctly is one huge breath-in, the perfect subtle warning that there's more to come!
Side B's "Illusions" takes a little more time to unfold. Commencing the track is yet another drone, but this time its in the upper mid-range and more of a glassy resonating tone. It's obvious that Chessex enjoys exploring tone, space, and resonance, and his enthusiasm is tangible in the recording. But Fools doesn't feel improvised much, at least on a larger scale the movement from one passage to the next is either smooth or jarring in whatever form Chessex intends. Finally after more textures are explored a blazing white hot blast of noise appears once again, this time with some harmonic movement shifting forming melodies and overtones that remind me of a black metal record. This is expanded on with different types of distortions, eqs, filters, and processing and finally beaten to a pulp. It is quite monotonous but also entrancing and works on every level.
Although Fools isn't a record that is stunning or breathtaking in any way, it is a professional cut and transmits the intended emotions with tact and precision. From the artwork down to the production quality throughout the composition and sounds it's a thought-out work that has depth and memorable moments, hidden elements that are uncovered with repeated listens. Evolution, ebb and flow, dynamics, unpredictably coupled with solid compositional choices makes Fools an engaging, intense, and formidable listen.
| | |
| --- | --- |
| Composition: | |
| Sounds: | |
| Production Quality: | |
| Concept: | |
| Packaging: | |
| Overall Rating: | |