Cloama – Death Certificate 7"
26 August 2010
xdementia
No Comment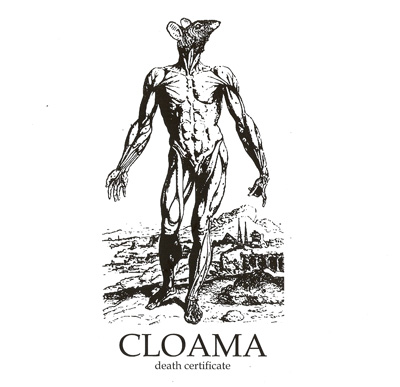 Cloama – Death Certificate 7″
Cloama is a project with many faces. Check out the Self Titled CD from a few years ago and you will hear a clean electroacoustic ambient atmosphere. Listen to his earlier Revisionist Knowledge CD on Freak Animal Productions and you will find searing power electronics noise attacks. Finally, pick up one of the collaborations with Blutleuchte and you will discover a surge of blackened noise. Whatever the face though, Cloama always tends to please in one form or another and this quick 7″ is no exception.
Death Certificate is the more power electronics side of Cloama (I'm starting to see a pattern as most of the PE influenced Cloama appears on Freak Animal). Side A offers a phenomenal track entitled "Rat With A Human Face". The track almost sounds entirely acoustic with persistent rhythmic drumming on what sounds like an old oil tank. Eventually it's joined with more scrap metal pounding and huge bass hits along with lo-fi gruff vocals to form a caveman-like power electronics track. Original and intense like no one else can execute.
Side B keeps the pace going with 2 more tracks the first being "Death Certificate" which is a bit more airy and features some harmonic movement of distorted textures. I really enjoy the second track "Sacrifice" however with it's eerie floating synths in the background and building scrap metal junk noise which eventually fades to the foreground. Once again, both of these tracks feature the lo-fi distorted and yelling vocals that graces the majority of Cloama's power electronics work.
If Cloama is unknown to you his sound here is probably most easily influenced by Grunt. He is also one half of Strom.ec so that influence isn't too far off either. Either way, this is great work and one of the best power electronics 7″s I've ever heard. Great variation in tracks and excellent production quality while retaining a lo-fi aesthetic. Strongly recommended.
| | |
| --- | --- |
| Composition: | |
| Sounds: | |
| Production Quality: | |
| Concept: | |
| Packaging: | |
| Overall Rating: | |