Lavas Magmas – Toxic Communion C26
26 August 2010
xdementia
No Comment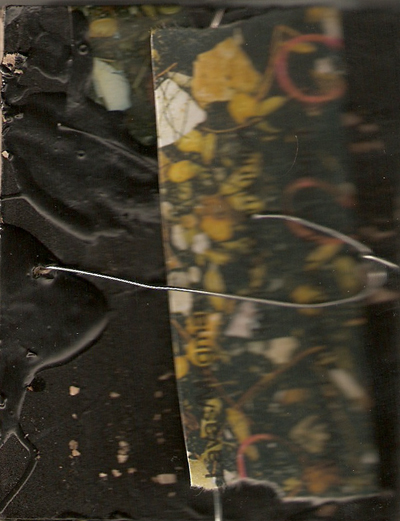 Lavas Magmas – Toxic Communion C26
I had the opportunity to witness Lavas Magmas live and it was a barrage of sights and sounds which I could only behold in wonderment. I was lucky enough to be given a few releases of his among which this one-sided tape was one of them. Housed in kind of shabby and bedraggled scrap material with stickers and wrapped in wire this D.I.Y. effort is just a bit deceiving because Toxic Communion delivers one hell of an auditory experience that transcends your typical limited noise release.
The tape has a sticker on one side, a smart move to prevent idiots like me – who didn't read the label – from playing the blank side and thinking the tape is defective. When the sound kicks in, I'm still not expecting a whole lot because the track kicks off with some more experimental noise textures, sputtering electronics, and blasts of glitchy noise. They all sound great, nice production in a lo-fi kind of way but just wasn't up to par with the live set I experienced.
To my pleasure the bass pulse that booms in at about the one minute mark totally kicks off the hypnotic textures and just sends the best kind of vibrations through my skull. Joined by pitched horn-like electronic wails and just constantly bursting with intensity the track builds and the harmonies change ever so slightly as large drones just pile one on top of one another. There's a lot going on here but the sounds manage to converge into a fiery miasma of psychedelia. The track is pretty consistant and finally, awkwardly, cuts away only to reappear with some of the strange shuffling distortion from the beginning. That idea seems a little unnescessary at this point but it's awkwardness somehow kind of fits.
This is a great release from this unsung artist and influences could be anything from Inade to Aaron Dilloway but it comes out sounding as if Halo Manash and Xombie birthed an estranged love child. My guess is this artist will die in obscurity after an creating an incredible catalog of top-notch releases. C'est la vie.
| | |
| --- | --- |
| Composition: | |
| Sounds: | |
| Production Quality: | |
| Concept: | |
| Packaging: | |
| Overall Rating: | |