Anemone Tube – Dream Landscape CD
29 August 2010
xdementia
One Comment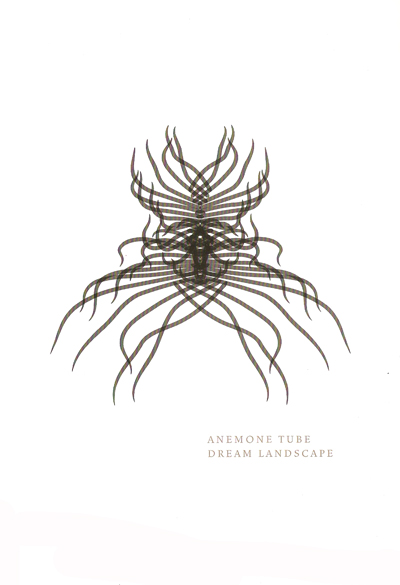 Anemone Tube – Dream Landscape CD
Here is something quite a bit different from the Silken Tofu camp. Regarding the packaging here, this is a phenomenal looking release, very professional and quite gorgeous. The CD is housed in a 10 panel, odd sized, folder with black and golden print. The text and minimalist artwork look great and reflect the atmosphere of the sounds well.
Anemone Tube is mostly a dark ambient project that wanders into noisier realms every once in a while. The general rule of thumb for Dream Landscape seems to be that the noisier it is, the weaker the material is. Anemone Tube does a good job in the dark ambient department; the opener "Above The Dark Waters" is a creatively textured track that is followed by "Dream Landscape" which seethes in glowing drones.
"Demoniac Reign" ups the noise factor a few levels and it becomes apparent that there is some serious lack of low-end in the recording. It's almost as if in post-production Anemone Tube ran his finalized two tracks through an equed digi-distortion and equally cheap reverb. This takes away any potential punch the noisier stuff on Dream Landscape could have. "Winds Of Fire" suffers a similar fate but luckily Anemone Tube is able to end strong with "L'Enfer C'Est Les Autres" in which the airyness and distortion serves to deepen the textures a bit rather than do more damage than good.
For the style of this music, which may be able to be compared to Locrian – or perhaps some other more generic ambient project – Dream Landscape is surpringsly short clocking in at under 30 minutes. The disc still works at this pace, but it does seem to be over before the tracks are really able to sink in. Generally the cheap "plastic" production quality of this takes away of lot of it's potential but the right compositional elements seem to be present so I'm crossing my fingers for future releases from this artist.
| | |
| --- | --- |
| Composition: | |
| Sounds: | |
| Production Quality: | |
| Concept: | |
| Packaging: | |
| Overall Rating: | |