K11 – Waiting for the Darkness CDR
29 August 2010
xdementia
No Comment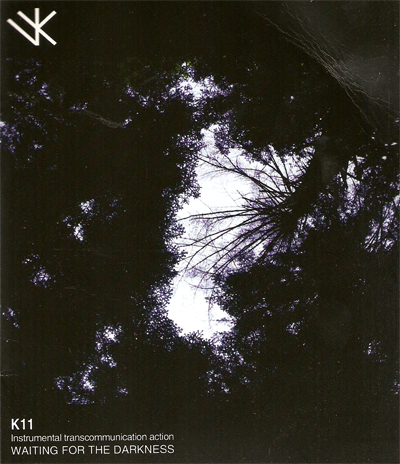 K11 – Waiting for the Darkness CDR
The packaging for this was deceiving. From the photos of forests and runes that adorn the graphic art I was expecting something in the realm of neo-folk or neo-classical, or even dark ritualistic ambient. What K11 delivers here quite different and reminds me much more of the recently reviewed Anemone Tube, or the long-ago reviewed Canadian project Nebris.
Waiting for the Darkness makes a lot more sense after reading the liner notes: "Waiting for the Darkness is an action of instrumental transcommunication with short wave radio receivers." That's exactly what a lot of the tracks sounds like, long periods of dead air either made noisier or just a touch more harmonic with guitar feedback, or wispy drones scattered along the edges. The recording quality is very lo-fi and distant with a cheap sound.
Most of the tracks are too long and dry for my taste. There are some moments in "300 KHz" and "29 MHz" that work quite well, but are still held back by the production quality. The CDR also comes with a video from one of the recording sessions and it's own audio soundtrack which I enjoy more than anything on the album.
Two of the five tracks that appear here are kind of interesting and the audio on the video is good, but I was definitely bored by too many tracks to really give Waiting for the Darkness much credence. Be that as it may, if you are interested in radio signals "atmosphere sounds" and dead air broadcasts this may be just what you need.
| | |
| --- | --- |
| Composition: | |
| Sounds: | |
| Production Quality: | |
| Concept: | |
| Packaging: | |
| Overall Rating: | |