Irukandji – Urine Nation CDR
29 August 2010
xdementia
No Comment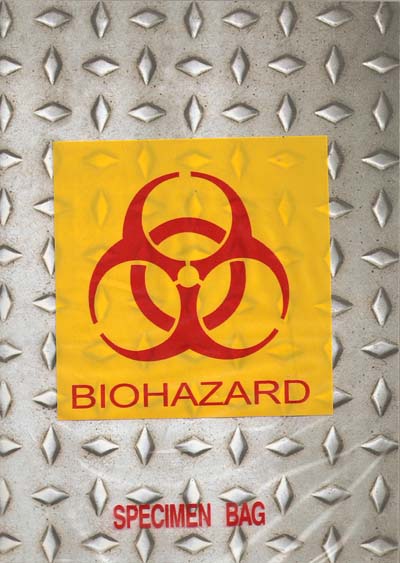 Irukandji – Urine Nation CDR
Irukandji is the harsh noise project of Michael Page who is also the man behind the former power electronics project Fire in the Head and the current ambient/noise/industrial project Sky Burial. Out of the three Irukandji is certainly the harshest, but the least atmospheric as well. Generally there are small bits of 80s and 90s music mixed with with just a touch of sarcasm, but not as much irony as Page professes to being a large fan of much of those songs.
Urine Nation is more than just a new Irukandji release though. Not only does it contain a new 15 minute track of material but also a re-release of his earlier releases Pulp Electronics (previously reviewed here) and Resuscihate (previously reviewed here). All this and the DVD sized artwork is delivered in a neat biohazard specimen baggy to create some freshly original packaging design (my only complaint is that the CDR is plain black with a blank top).
Since I've previously reviewed the other two releases featured on the disc I'm going to stick to the one 15 minute long title track. Kicking off with an acoustic guitar obviously sampled from some cheap radio song the blast of harsh noise comes in on the downbeat. Immediately this is harsh noise attacks of the best quality, panning, spitting, biting, barking, flailing all over the place. It's spastic and out of control. The first few minutes take some time to set up for the more creative changes that take place about 5 minutes in. At this point there are some alternating alarm-like synth harmonies presented letting the noise drop back a bit. It's a great change up and offers a significant change to the sound that Irukandji has previously released. After this mark the textures seem to get more varied and creative, going from more glassy styled feedback and immolated frequencies to passages that sound like a dying tuba thrown in a wood chipper.
This is some of Irukandji's strongest material to date because it goes beyond just the sharp, focused, and tongue-in-cheek harsh noise that the project has already established. In addition, the excellent packaging combined with the extra audio content makes Urination a perfect starting point for those who are unfamiliar with the project. Great release all in all aspects!
| | |
| --- | --- |
| Composition: | |
| Sounds: | |
| Production Quality: | |
| Concept: | |
| Packaging: | |
| Overall Rating: | |