The Vomit Arsonist – Wretch CD
29 August 2010
xdementia
No Comment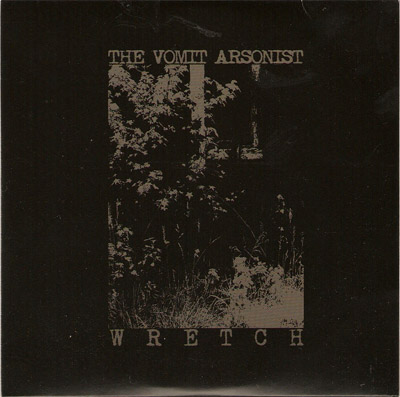 Force of Nature/Cipher Productions
The Vomit Arsonist is the project of Andrew Grant based out of Rhode Island. Although he has been coined as power electronics in the past Wretch walks the line between death industrial, dark ambient, and power electronics effortlessly blending the genres together to form a cohesive and strong work. As the first proper CD release from the project Wretch is a success in all aspects.
The opener "The Warm Body Complex" introduces the disc well with a low-end drone that builds into textured ambience with swells of distorted noise and subtle vocals seething into the mix, add to that atmospheric industrial sounds and subtle spoken samples and The Vomit Arsonist is already presenting a consistent and strong mix of sounds with this first track. "Until Death" brings things around to more death industrial territory with low drones and more metal clashing, creaking, and high-pitched feedback tones. The music brings to mind images of filthy isolated wastelands, abandoned warehouses and coupled with lyrics like "mine is a life of dissappointment" it also calls to mind negative attitudes, and generally the dark side of humanity. The movement of the tracks are slow and plodding, but always persistent and contain a great deal of depth that is less common among much noise today.
"A Moment of Clarity" is the weakest track here with low-end synthesizer tones reminding me of something Angelo Badalamenti might have produced from the soundtrack of Twin Peaks. Combine this with subdued harsh noise, feedback, and screamed vocals and it just seems like the track is a bit confused on where it wants to be. Luckily the rest of the tracks are up to par with the first two, as "Time Passing" brings in the more focused death industrial rhythms nodding to influences such as Megpatera and combines some great melodic synth work in here that harkens to some NTT influence as well. In general The Vomit Arsonist has a knack for combining these floating synth melodies with dark and noisy atmospheres.
"The Light" works on this combination of almost new-age synthesizer pads and harsh noise but is more successful than "A Moment of Clarity", especially when the apex of the track is reached and scathing, distorted vocal attacks take center stage. The final two tracks "Beating and Twitching" and "Power" are the most consistenly power electronics tracks here, but still maintain some of the industrial atmospheres that help to make The Vomit Arsonist's sound unique.
Wretch is a great effort and one that well deserves a full CD release. It's an album that spans the depths of several of the "dark" noise genres and does it with clarity and precision. The atmosphere is one of bleak hopelessness and there's little room to breath in the suffocating low-end production. Very good work and recommended to fans of acts like Gruntsplatter and Brighter Death Now.
| | |
| --- | --- |
| Composition: | |
| Sounds: | |
| Production Quality: | |
| Concept: | |
| Packaging: | |
| Overall Rating: | |