DDDD – Frustration Music CD
9 September 2010
xdementia
No Comment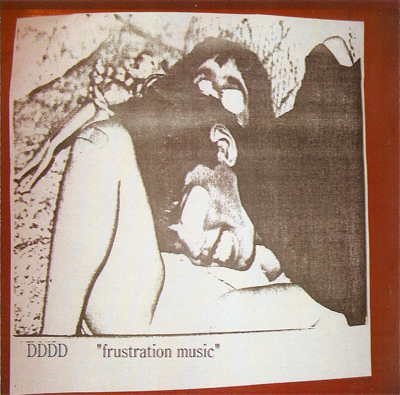 DDDD – Frustration Music CD
Here is a full length recording from another project unknown to me. With a photograph of a photocopy featured on the front cover I just have to question what kind of aesthetic these guys are going for. The artwork looks pretty bad with black text overlayed on high contrast black and white collage work which makes it unreadable.
Unfortunately the sound doesn't fare much better. The disc is comprised of 4 long tracks, two of them being close to 10 minutes with the last two closer to 15 minutes. The noise is a thick core of stupid-tone – the resonant tone of a feedback loop – quite dull and lo-fi with distorted textures moving alongside the huge monolothic fuzz that suffocates the entire space.
Some tracks have more of an open-air sound than others, but that's still not saying much. The first two tracks "Frustration Music" and "Redundant Edifice" have some kind of light reverb on them. Things really get pushy and blurry in the last two longer tracks "Loss Aversion" and "I Don't Care that You Don't Care". There's some very quiet metal clanking, radio dialogue, and sometimes screaming heard buried deep in the mix but most of the time it's just that dull tone, endlessly spewing forth from the speakers.
I'm unclear as to whether this is wall-noise or what but it's incredibly boring. Really makes me want to do something else besides write a review. I'm surprised DDDD even had the patience to record this. Not for me, and to be honest I don't know who could possibly be into this.
| | |
| --- | --- |
| Composition: | |
| Sounds: | |
| Production Quality: | |
| Concept: | |
| Packaging: | |
| Overall Rating: | |