V/A – Untitled 6xC10
13 September 2010
xdementia
No Comment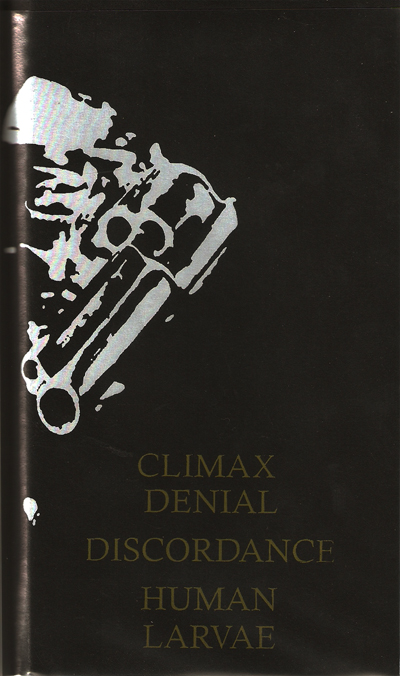 V/A – Untitled 6xC10
Here is an INTENSE release and the first Phage Tape release that has fallen into my grubby mitts. How to tackle a review of 6 separate cassette tapes all rolled into one release has been wracking my mind now for some time. This is certainly a most ambitious project. What we have here are 6 10 minute cassettes each with material from one of the following artists: Climax Denial, Discordance, Human Larvae, Moribund, Sewer Goddess, and let's not forget our favorite Yankees Sharpwaist!
Packaging is pretty nifty here, all the tapes are housed in a pro plastic padded folder. Definitely great for storage and protection and simple for artwork. The inside has all the tapes with silkscreen print right on the tape face, a professional deal here. Inside is a smart looking little booklet with one page dedicated to each artist. I really dig the inside artwork but the outer artwork is pretty half-assed. It would have been really over the top if there had been a little more time spent on the front/back cover.
I'll take it slow, one tape at a time. Baby steps. First up is Climax Denial and this is the thickest, most suffocating Climax Denial material to date. Not my favorite, but solid at the least. Dense walls of synth noise, no room to breath. Little wails of feedback here and there almost take away some of the intensity of the noise walls. Not as atmospheric as his usual stuff and no vocals here. You could've have played this to me point-blank and I wouldn't have known who it is. The second track "Observing Criminal Mysophilia – First Signs of Arousal" is much more enjoyable with it's layers of odd sounds and sickened atmosphere.
The only unknown artist to me is Discordance who's up next. Being among some of my favorite artists in the genre I really hope he's bringing his A game. Echoing noise with a weird reverb and some distorted vocals aren't sitting with me too well. The material is layered but comes off as a bit weak in "Kiss". Luckily "Hey James" is a bit more creative with interesting samples and some creative synth work. The shoddy production works a little better with more textured layers. Weakest tape of the bunch, but that's not surprising next to these great artists.
Human Larvae is up! Been waiting for this one. Great alternating synth drone and immediately more textured sounds opening his first track "Wegweiser". The dark atmospheric layers of pulsating synths are soon joined by ungodly moans and barking vocals along with a crunchy distortion creating a perfect montage of sounds. The second track "Walls of Flesh" being equally as intense. A build-up of rough chugging drones, junk noise, squirmy vocals, and subdued feedback tones. A perfect mix. This is some of Human Larvae's best material to date and my favorite tape of the bunch – though it's some stiff competition.
Moribund is another favorite of mine taking more of a harsh noise angle on the first side with "Erosion", a full throttle distorted, junk noise assault with seething feedback. Breaking each side into two tracks the second track on the first side "Your Choice" being about 30 seconds long featuring some more power electronics vocals. Side B is much more in line with his work on Growing featuring mid-pitched drones and heavily modulating distorted noise combined with sickened vocals that deliver the intensity that I'm used to from the project. Definitely a good showing and a pleasure to hear new material from this less-than-prolific artist.
On the next tape we're circling back around to the great state of Massachusetts with Sewer Goddess's more industrial tinged atmospheres. Yet another great tape to add to the release with this one. Both tracks feature a death drone backdrop and room for plenty of industrial clanging, the first more outwardly rhythmic and the second a pulsating, droning, death flower blooming in your ears. Seriously, the second track "Control Factor Commence Slaughter Sequence 2" is such a phenomenal track with seething ambience and ear bleeding fuckery at all angles. Not for the weak at heart.
Finally running back into home – the means streets of Boston – is Sharpwaist delivering some scummy electronics as expected with "Chemotherapy – Swollen Ankles and Vodka Handles" a fast rhythmic jaunt and ethereal feedback whines with some subtle forms of low industrial tones. This is dirty, filthy, rough, and… hypnotic?!?!? Yes. An odd juxtaposition of emotions here but one that ends this varied release with a perfect gesture. The second side "Pink Spit On Filthy Porcelain" fairs just as well with a slower tempo and a few samples to further illustrate the absurd level of bleakness Sharpwaist conveys.
All I can say is that this comes off as a MAMMOTH release and although it works as a unified whole, you'll find a diversity on here that spans the length of each and every artist. The dark edge that pervades each tape is well chosen with each artist that is represented and the changes in style and intensity is never jarring or questionable. This is a must-have for any fan of current power electronics so pick this up if there's any left!
| | |
| --- | --- |
| Composition: | |
| Sounds: | |
| Production Quality: | |
| Concept: | |
| Packaging: | |
| Overall Rating: | |