Weak Sisters – Final 7"
30 September 2010
xdementia
One Comment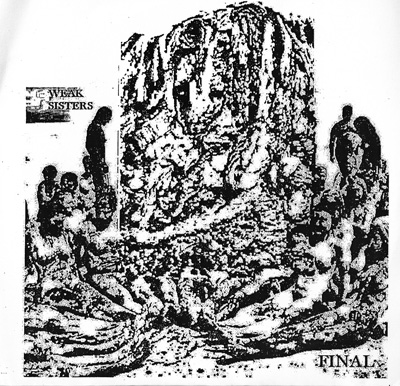 Weak Sisters – Final 7″
Secret/Wasting
I have no idea how I came across this quickie little 7″. Maybe it was sent to me, maybe some touring dudes gave it to me? There's no information on the record save for the group name and album title on the cover. Black ink silkscreened on grey matte paper sets the tone of a high-contrast lo-fi power electronics album.
That's basically what is delivered here, with maybe a little more of an experimental noise influence than I expected. But this material reminds me a lot of "History of AIDS" era Prurient, or even some Whitehouse. Not bad starting points, the tracks are raw, and to the point. Side A features high frequency feedback with almost dry screaming vocals and circuit bent distorted fucked noise for the last minute or two.
Side B breaks in with a huge upper mid-range drone slowly becoming more and more distorted before getting fucked with enormously. Almost even meandering into electroacoustic territory, the more I listen to this and the closer in I get to the details the more it sucks me in. It's lo-fi, meandering, primitive even, but I like it and I can't put my finger on why. Finally whispered vocals unpredictably break in before a huge tour-de-force of noise is presented and once again this is reminding me of History of AIDS perhaps with a little less low-end.
Fans of primitive noise, high pitched tones, hateful fuckery all take note. I don't even know how you'd go about obtaining this record but it's definitely a little gem of weirdo wank off sickened noise that actually works for once. Don't ask me why.
| | |
| --- | --- |
| Composition: | |
| Sounds: | |
| Production Quality: | |
| Concept: | |
| Packaging: | |
| Overall Rating: | |