Plastic Boner Band – The Way of All Flesh CDR
30 September 2010
xdementia
No Comment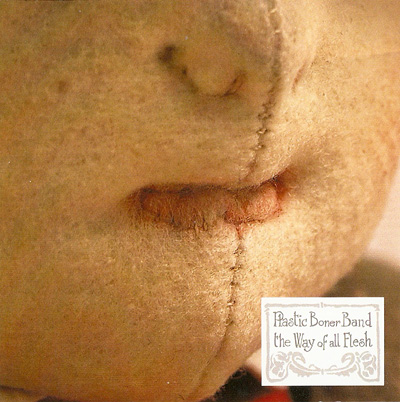 Plastic Boner Band – The Way of All Flesh CDR
I have to admit I was totally fooled by this release. It looks so pro I thought it was a real CD. Although this may be a CDR don't let it fool you, it looks and sounds very professional. The artwork is simple but great and definitely works to further the concept here. Kind of strange because the last release I received from Plastic Boner Band was this crusty CDR in weird bulletin board style packaging and heavy spraypaint junk artwork. That's ok, because their sound has not changed a bit and they continue with their minimalist noise compositions.
The Way of All Flesh is 4 tracks spread over roughly 45 minutes. The noise here is at times quite simple, other times very saturated. Never really densely layered or anything, although the overall sonic territory can become quite dense because of the saturation or overdrive used. The first track is great, churning noise walls with heavily distorted bass pulses breaking things up and eventually effecting everything. The track is slow and churning with alternating blasts but the quality is very high here. I would guess that Plastic Boner Band is making good use of some nice analog gear.
The second track is a bit longer and less appetizing. The mid-ranged drone doesn't really do much for me and the slow build isn't anything suprising. It becomes a bit of an endurance test and at over 10 minutes I'm a bit tired of it. The energy that the first tracks set up is lost. I can see the intensity that PBB is trying to build here but they're not quite doing it for me.
The third track is a strait-out ambient sound with lo-fi elements composed in yet another minimalist manner. It's slow and subtle, perhaps again a bit too subtle for my tastes. The sounds repeating themselves and not much new material brought up in the 13 minute span, although the sounds aren't as annoying as the second track. Luckily PBB ends strong with the last and longest track here that returns to the epic monolithic cacophony that PBB does so well. The energy is back and so is their great ability to manipulate huge walls of sound.
Reference points are Merzbow's "Space Metalizer", and Women In Tragedy if you're familiar with either of those two you can have some idea of what to expect. It's a solid album with a few elements that I think fall short a bit but I can see where they're coming from and I think they successfully executed their intended vision even though perhaps some of the results I am a little less than safisfied with. Despite that, The Way of All Flesh is still a markedly professional release and one that is quite uncompromising in it's vision.
| | |
| --- | --- |
| Composition: | |
| Sounds: | |
| Production Quality: | |
| Concept: | |
| Packaging: | |
| Overall Rating: | |