RU-486 – Iron Empire C52
30 September 2010
xdementia
No Comment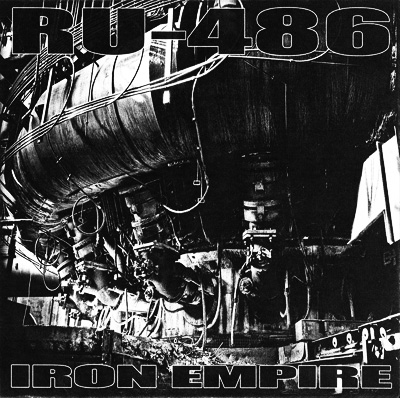 RU-486 – Iron Empire C52
This one was a little tricky. Here we have a "C52″ but it's the same material on both sides so don't think you're getting that much bang for your buck. That's ok though because this is some effective and dynamic thrashy harsh junk noise that hits hard right in all the soft spots. The packaging is a little awkward with 7" artwork which is rad, but a tape just thrown in the bag.
The opener "Cast Iron Effigies" is also a little deceiving with it's dark drone and great spoken word samples. The dialogue is deep and subtle, the drone detailed and ominous. Almost reminds me a William Burroughs reading – it might very well be, I don't know. But don't be fooled by the atmospherics in this opener because the rest of the tape is harsh and raw.
Loud, choppy, chunky, and monolithic is the noise on Iron Empire. The subtle atmospheres don't make a return. I have to file this more under the harsh junk noise side of things than anything power electronics or death industrial. It's almost like a simpler, rawer Paranoid Time which is not at all a negative thing.
Not what I was expecting, but definitely a great fix of harsh industrial junk noise right when I need. Hell, I don't even mind flipping the tape and listening to it twice in a row. The first track is the only really memorable thing on here but the rest of the tape makes repeated listening quite enjoyable.
| | |
| --- | --- |
| Composition: | |
| Sounds: | |
| Production Quality: | |
| Concept: | |
| Packaging: | |
| Overall Rating: | |