Liz Allbee – Theseus Vs. CD
4 October 2010
xdementia
No Comment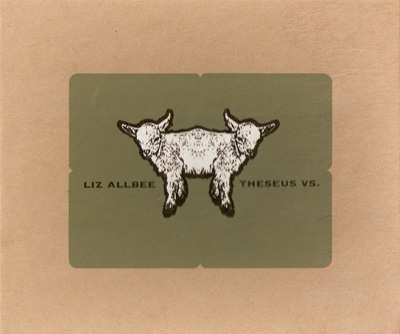 Liz Allbee – Theseus Vs. CD
Be prepared for a strange and varied release when you pop in Liz Allbee's Theseus Vs.! Packaged in a slick cardboard box with artwork printed right on the front – how'd they do that? The image of the double-headed lamb working quite well to represent the sonic mutations that are housed within. Theseus Vs. is innocent and playful, but also inexplicably weird, and I sense some tongue-in-cheek humor within these odd passages as well.
The sounds represented here range from experimental, electroacoustic, dark ambient textures merge with dark jazz interludes and even – as in Leisure Sport Overlords – meandering into lounge territory. The album took me some time to warm up to but by the time The Undersides rolled around – a track that combines strange synthesized pulses with almost gamelan style percussion and well sung female jazz vocals – I have to admit I was intrigued, and waiting to see what would happen next.
The varied atmospheres continue to expand and befuddle. With Hide It In The Lie taking a more ambient/noise approach and leading into Your Medicine which again takes a more musical approach using what reminds me of xylophone sounds, and vocals. History of the Automotive is a slowly building track featured garbled spoken word samples covering a variety of obscenities. Finally Allbee brings it home with A Charmed Life which is probably the most musical track on the disc using chanting, repetitive vocals, drums, and an organ line and later lines of horns kind of making me think of a more technological A Hawk and A Hacksaw.
I can't say I really like this record much. It's so varied and all over the place I find it kind of difficult to form an opinion of it. The production is crisp, clear and the tracks are obviously well thought out and there is a large amount of material here for it's running time of a little over 30 minutes. The concept, along with the sound tends to be very scatterbrained making it feel like Theseus Vs. is more of just a collection of songs rather than a larger work. That said, there are a few good moments here and it is definitely creative and unique. I'm going to have to throw this one to the wolves and encourage you to form your own opinions – I don't know what to say!
| | |
| --- | --- |
| Composition: | |
| Sounds: | |
| Production Quality: | |
| Concept: | |
| Packaging: | |
| Overall Rating: | |