Redglaer – Radioactive Concept C30
4 October 2010
xdementia
No Comment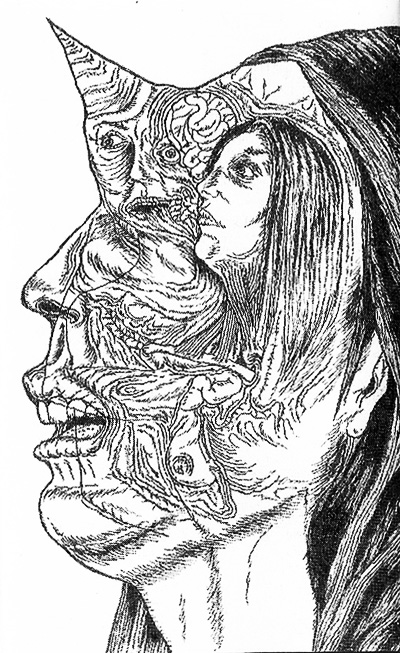 Redglaer – Radioactive Concept C30
This is my first exposure to Redglaer although the name sounds familiar. This a simple tape with black and white illustrated imagery as the artwork. One track graces each side and I'm guessing each one runs about 15 minutes.
Side A features "Longmont Improvisation" a droning noisy assault that features a constant mid-range frequency accompanied with a good dosage of feedback, distorted interruptions, and along the way there appears some subtle vocal cut-up samples. I like the general production, it's nice and crunchy but the central drone gets dry very quickly and it numbs me to the rest of the track. It just goes on way too long before it is finally changed.
Side B brings us "Radioactive Concept" which is a great track with dynamic and varied walls of harsh noise. Choppy synths, washes of compressed distortion, blasts of different textures and twangs. It's all more textural here than rhythmic in any way but they flow into each other with tactfulness. Sometimes slowly gaining height in pitch only to finally crash down into a huge bass drone and then slowly become a more spacious atmosphere. It's lo-fi but has a great element of simplicity that also holds depth. Very nice work on this one, I wish side A was closer in sound to side B and the track proves that there is a lot of potential with this project.
Overall a good little tape. Solid artwork and vision throughout the release, side A will definitely appeal to drone heads a bit more, but if you are at all into harsh noise with heavy drone-influenced textures then you will also enjoy side B. I'm definitely interested in hearing more of this artist in the future.
| | |
| --- | --- |
| Composition: | |
| Sounds: | |
| Production Quality: | |
| Concept: | |
| Packaging: | |
| Overall Rating: | |