Nyodene D – Pogrom C30
4 October 2010
xdementia
No Comment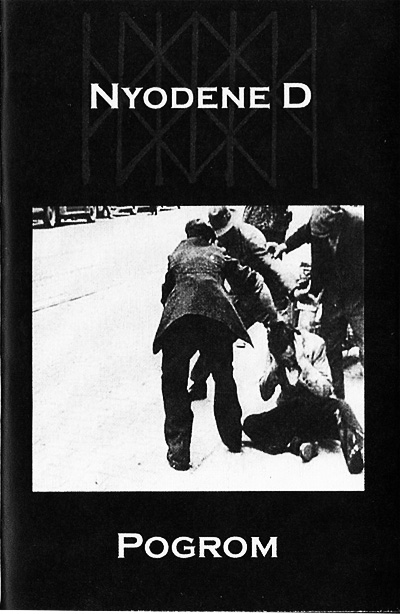 Nyodene D – Pogrom C30
Gotta say I'm a sucker for simple artwork and no bullshit tapes like these. Black and white with cheap text and photos of what I'm guessing are from the Rwanda genocides, this seems to be a concept album based on those atrocities. Nyodene D delivers some strait forward power electronics and industrial reminding me of the sounds of Climax Denial and Grunt.
Side A's Marched Into the Streets is a shifting barrage of junk noise, sounding great in all it's lo-fi glory. Along the roughly 15 minute length there is little change, but shifting harmonies – manipulated string samples perhaps – slowly and subtlety fade in under the fray. Vocals are here and there, often yelled. Not dry but with a small amount of reverb and distortion.
Side B features the track entitled Via Dolorosa, this time a bit more rhythmic reminding me of the Grunt influence. I really like the underlying loop but it also continues for the entirety of the track. There are more vocals here than the first track – barking power electronic yelling, like a general directing his troops over the din of battle. Noise and distortion slowly builds to form a climax, along with the help of a steady synth pulse that ends with a news clip sample referring to the Rwanda genocide.
This whole tape is very simple and strait forward PE. I enjoy it, and especially enjoy the source samples used. The sounds are great here, the loops on the second track are fucking awesome really making my head nod. I only wish the loops didn't continue for so long on both sides, I would have liked to hear either shorter songs, more variety, or more creative evolutions to the tracks. Recommended for fans of lo-fi strait forward power electronics like Europe After Storm-era Grunt, Climax Denial, or Pleasure Fluids.
| | |
| --- | --- |
| Composition: | |
| Sounds: | |
| Production Quality: | |
| Concept: | |
| Packaging: | |
| Overall Rating: | |