Plastic Boner Band – Plastic Boner Band C60
6 October 2010
xdementia
No Comment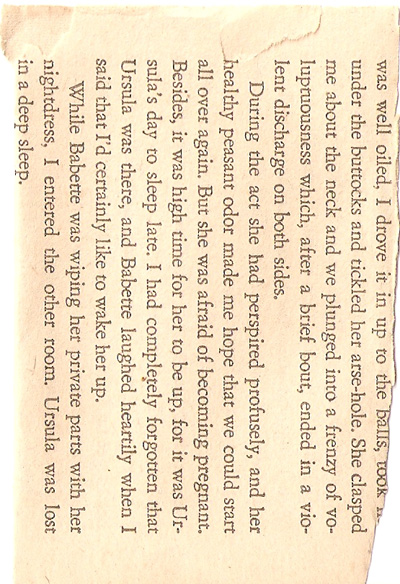 Plastic Boner Band – Plastic Boner Band C60
Here's a LONG release from the strange Plastic Boner Band. Finally they have released the record I have expected them to release. Maybe it's just based on the silly name but this – contrary to their other recorded material – is a long meandering pile of wankery if there ever was one. The thing that still leaves me puzzled is: why now? Why after the release of their competent Isaiah 66:6 CDR and shortly before their solid full-length The Way of All Flesh do they release their self-titled tape as a dry, under-inspired, under-packaged mess?
The pacakging is simply a page ripped out of a book reading some smutty fiction with the project name written on the spine in sharpy. The tape is a plain recordable Maxell 60 minute tape with no label, printing or anything. The underwhelming packaging prepares me well for the sounds within.
The sides are similar in style if not in sounds. One long meandering track that most often consists of one layer modified in some way. This could be feedback, synths, or both mixed together but the tracks are tough to handle. Oh, and did I mention they're long? They have their moments though, there is some great clipping, squiggly fuckery about mid-way through side A that I really enjoy and sometimes the manipulations, pulsations, and modulations fall together in an interesting way. However this feels like practice through and through. Some bedroom improvisations thrown to tape.
This is more of the material that I would expect from a band called "Plastic Boner Band". Less monolithic and not as doomy as their other more appealing material, much closer to the wanky and experimental realms. Similar artists that come to mind would be Fossils or Chefkirk. Not my cup'o'tea.
| | |
| --- | --- |
| Composition: | |
| Sounds: | |
| Production Quality: | |
| Concept: | |
| Packaging: | |
| Overall Rating: | |