Inhalant – Save Our Souls CD
10 October 2010
xdementia
No Comment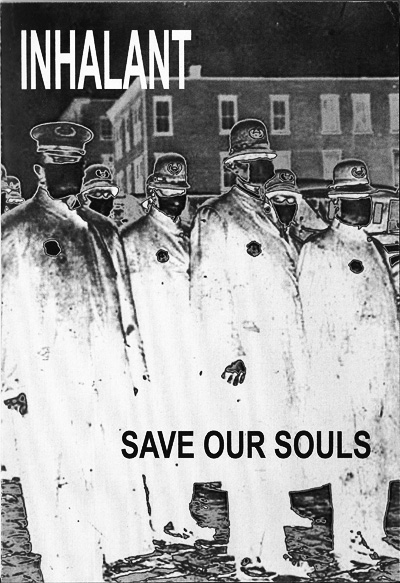 Inhalant – Save Our Souls CD
Expectations can be a funny thing. I don't know why I keep setting the bar so high for Texas' Inhalant, perhaps because I dig the name and the aesthetic, or perhaps because he's been functioning under the name for 10 years now. Unfortunately I can't help but just feel a bit under whelmed when experiencing his releases.
Save Our Souls is no exception with the major issues lying in the production. It's lo-fi in a very exhausting way, and the hypnotic and repetitive nature of the tracks work further to wear me down over the course of the album. Most of the tracks here are severely lacking in the low-end spectrum of sound and with lengths that mostly span over 5 minutes it's a lot of time to be waiting for the sub frequencies to kick in. The cheap distortion that drenches every aspect of the release needs to be changed up once in a while for some breathing room in order for the listener to fully understand the processing that is going on here.
It isn't until Body Trap when there is finally an inkling of the pummeling low-end throbs that Save Our Souls finally begins to deliver but it's still too little, too late. The vocals which appear in No Surrender and Lick The Dead are a strong point – with the style of distortion actually working here but it's one positive out of a whole unenjoyable sea of tracks that would really otherwise be pretty great.
So this is yet another classic case of me not liking something because of the shitty production. If you dig lo-fi power electronics and industrial you will certainly enjoy this. I prefer something that will not only scratch me in the face, but also punch me in the gut. Save Our Souls is a scratch to the face but can't deliver that last hay-maker. Maybe next time.
| | |
| --- | --- |
| Composition: | |
| Sounds: | |
| Production Quality: | |
| Concept: | |
| Packaging: | |
| Overall Rating: | |