Peter J Woods – Creation Death Machine CD
10 October 2010
xdementia
No Comment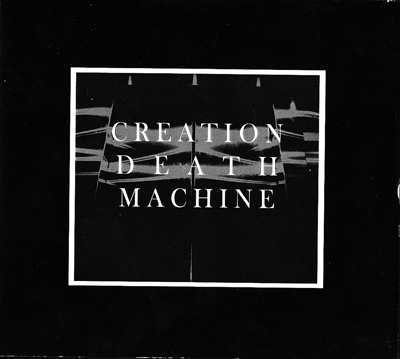 Peter J Woods – Creation Death Machine CD
My ears are consistently left ringing after listening to Peter J Woods' Creation Death Machine because it's noisy, destructive and filled with sneaky dynamics but I just keep turning it up and playing it too loud because I want to catch every moment, each minute detail. If you're familiar with Woods' work you can expect blasts of noise and sounds, spoken word and screamed vocals, sound collage, snippets of field recordings, static blasts and walls of noise. This is artsy power electronics for lack of a better term. Definitely a converging of electroacoustic music with noise and PE, and not at all for the purists. For each heavy blast there are minutes of quiet tones lulling the listener into a false complacency with each interlude.
These tracks are all a bit baffling in their construction but it makes Creation Death Machine all the more intriguing. Slow tones of feedback bleed in and out, harmonious, inharmonious, sometimes ear piercing but more often than not purely laying a foundation for ambience. The vocals often act as more of a sound element than actual lyrical content, but that's not the case in the second track which features a chorus that is unapologetically sung in a simple melody as a quick outtro to the track and completely unprocessed screaming.
With the words "Your existential crisis is a privilege. What are you going to do with it?" reading on the inner digipak case as a simple testament to the depth of the concept here the ideas are clearly written in the minimalist artwork and lyrical content and track titles. The sounds play out as a confusing dream, with this confusion heightening in the third track that features an odd collage of spoken word samples, not dark or creepy but enveloping and somewhat awkward. It's the low whale-call like tones that moan subtly in the background which give the atmosphere it's unsettling undertones.
Peter J Woods is redefining what can be considered industrial, power electronics and noise. This isn't wanky experimental music, with it's carefully composed moments and sound shifts, it's not industrial because it lacks the repetitiveness and rhythmic elements, and it's not power electronics because you won't find any flanged vocals or mutilated women plastered on the cover. I know what Creation Death Machine isn't and I still haven't quite figured out yet what it is yet. But I know I like it.
| | |
| --- | --- |
| Composition: | |
| Sounds: | |
| Production Quality: | |
| Concept: | |
| Packaging: | |
| Overall Rating: | |