Hugfucks – Vehement Caress CDR
20 October 2010
xdementia
No Comment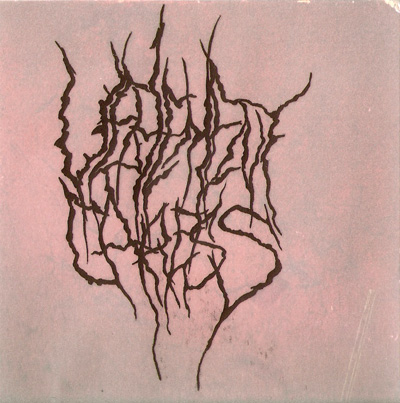 Hugfucks – Vehement Caress CDR
I really wasn't expecting much from the goofy named "Hugfucks" project but this D.I.Y. flavored CDR is a creeping, lurking, burping, banging, seriously hot mess in the best kind of way. The packaging design is simple and to the point as is the noise here in style somewhat reminding me of Wolf Eye's Always Wrong.
Once the opening track Self Immolation has worked up to it's heavy blast of noise from it's humming beginnings it's clear that Hugfucks has a way with controlling sound and frequency that works in his favor. The tracks on Vehement Caress vary in intensity and length ranging from Sensory Deprivation's 43 seconds of crackling distortion and ear-piercing feedback to the epic 16 minute closer Peaceful Redemption where subtle harmonic drones converge with distorted hums to for a monolithic wall of undulating emotion.
The thing I really love about Vehement Caress is the changes in dynamics, tones, and speed with each track like a new take on a continuing theme that is eventually prodded, poked, beaten and battered as to not at all resemble what it started out to be. The disc has a pervading lo-fi aesthetic but the tracks consistently fall in no-man's land between fucking around improvisation and experimentation, to well thought-out composed fully realized ideas. The former never falls into merely self gratification, and the latter is complicated by these noisier almost playful interludes.
Definitely a great disc and much overlooked since I've never heard anything about this project or release. I still have trouble coming up with reference points for Hugfucks sound – perhaps Wolf Eyes or Shipwreck Diaries era Prurient? Maybe even Oscillating Innards? It's harsh noise with minimalist and experimental leanings, very well done.
| | |
| --- | --- |
| Composition: | |
| Sounds: | |
| Production Quality: | |
| Concept: | |
| Packaging: | |
| Overall Rating: | |