V/A – Singles Series Vol. 2 3"DVDR
22 October 2010
xdementia
No Comment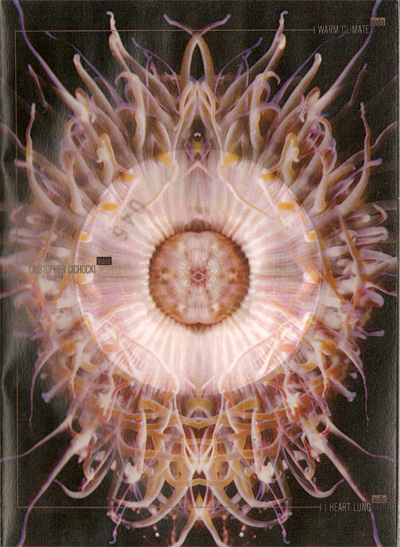 V/A – Singles Series Vol. 2 3″DVDR
Here's an excellent 3″DVDR – a format you don't see too often – with really interesting packaging consisting of full-color printed transparency around a sheet of metal. The disc has 2 chapters on it each featuring the visual work of Christopher Cichocki with the first chapter utilizing audio by Warm Climate, and the second by I Heart Lung.
The first presentation entitled Synovial Moves uses Cichocki's token video techniques of kaleidoscope images, fast cuts, and geometric-like movement of mainly water, but eventually fades into what appears to be some kind of building. The audio from Warm Climate is this kind of messy, noisy free jazz with the bursting in of a saxophone which comes as a big surprise about half way through. Overall I tend to prefer the visuals over the audio in this chapter but for this kind of free improv stuff the audio alone is decent and the combination of audio and visual couldn't be more well composed.
The next chapter is entitled Interoceans and is quite a breathtakingly beautiful piece. This time the visuals are more artificial and pretty while the audio by I Heart Lung is much more musical. Once the melancholic strummed guitar is presented the tone becomes increasingly more emotional and the video – heartily remaining abstract – matches the tone perfectly.
Once again, I must submit that Cichocki is a master with the medium of film, especially where representation of the abstract comes into play. Where his previous endeavor Elemental Shift saw the perfect manifestation of his harsh cut-up noise compositions into stunning visuals, this DVDR does the same with the free improv sounds of Warm Climate and the gorgeous musical melodies of I Heart Lung. Excellent work.
| | |
| --- | --- |
| Composition: | |
| Sounds: | |
| Visuals: | |
| Production Quality: | |
| Concept: | |
| Packaging: | |
| Overall Rating: | |