Blessed Sacrifist – Timeless Losers 3"CDR
24 October 2010
xdementia
No Comment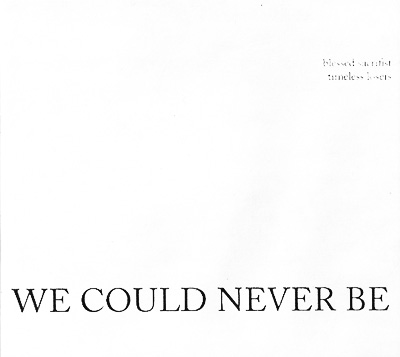 Blessed Sacrifist – Timeless Losers 3″CDR
Blessed Sacrifist is the Milwaukee based project of Jason Linski who is also a part of Owls Cry, XxXAllxForxThisXxX and the man behind BullArt Media. With this project he plays power electronics in an eclectic way employing drone, classical music samples, and heavy dynamics to create a varied atmosphere of concrete and harsh electronics.
Timeless Losers has a similar atmosphere to his full-length Falling. Quiet drones and whispers quickly work up to searing distorted walls of noise with delayed screaming vocals and blunt rhythmic barrages. With merely three tracks here it is refreshing to have the sound cycle through so many different atmospheres, but at the same time the disc is held together nicely by quality of sound and editing.
The disc uses minimalist design and packaging which does leave a little to be desired, but also matches the sparse yet dynamic sounds well. Yet another solid release from this underrated artist.
| | |
| --- | --- |
| Composition: | |
| Sounds: | |
| Production Quality: | |
| Concept: | |
| Packaging: | |
| Overall Rating: | |