EE02: XIPHOID DEMENTIA & BURN WARD – XIPHOID BURN 3″CDR
10 December 2009
xdementia
No Comment
*DELETED*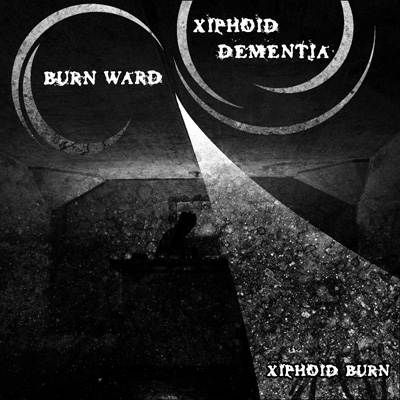 This 15 minute live collaboration between Xiphoid Dementia & Burn Ward culminates into a harrowing, speaker rattling, bleak industrial soundscape. Swirling analog synths mix with cold, sinister digital drones.
This release is no longer available.
Simple black and white artwork with insert.
Limited to 100 copies.
REVIEWS
From Aural Pressure.
Arriving housed in a normal sized cardboard cover comes this 3 inch CDR (…will someone, anyone please, please, please explain to me what the fuck is the point of this format…) from the combined talents of Xiphoid Dementia & Burn Ward. Xiphoid Dementia I already know about having reviewed and highly rated "Embalmed In Purity" which was the last opus from Egan S Budd. Burn Ward on the other hand is a hitherto unknown act to these ears with a couple of releases already out. Never reviewed them because none were sent in for review. Their loss.
Unlike most of my reviews I'll keep this one fairly short. This one track composition is a sub 16 minutes of purest power drone electronics. That's it. That's all. Fucking good stuff though. No samples. No death vocals. Nothing to get in the way of the noise which churns and floats, appears then disappears, squeals and squalls, integration before disintegration, man and machine in perfect harmony / disharmony. Fucking good stuff though. Apologies for repeating myself there.
But…it's on a 3 inch CDR. And only lasts under 16 minutes. Which is a wasted opportunity on the part of both acts. So enamoured and engrossed was I with this track that I kind of felt cheated when it finished. They really should have put out a full recording with much more of the same on it. With a rebel yell I cried more, more, more…with apologies to a certain shite motorcycle accident prone ex-punk. Maybe next time. For now though this will just have to suffice.
From Vital Weekly #499.
The other release on the same label is a collaboration between Burn Ward and Xiphoid Dementia. If understood correctly Burn Ward plays the sounds in the low and mid end, and Xiphoid Dementia the sounds in mid and high end. In fifteen minutes things arise from the deep end rumblings of the swamp to go up in the air like a rocket. Engine like sounds towards the end make this altogether more audible. Noise meets ambient in a very fine way.