Nyodene D – I Have No Mouth, yet I Must Scream C30
20 January 2011
xdementia
No Comment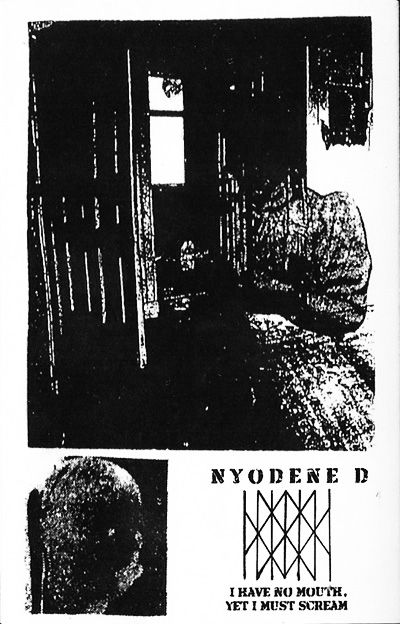 Nyodene D – I Have No Mouth, yet I Must Scream C30
Nyodene D could still be considered a relative "newcomer" having had his first release in 2008 but upon hearing I Have No Mouth, Yet I Must Scream one would be hard-pressed to know. The release is a well composed collection of tracks featuring a heavy death industrial feel with belting vocals which push it over into the power electronics realm.
The vocals remind me of Grunt being relatively clean, with perhaps a touch of delay and distortion, usually in front of the mix. The subject matter however, seems to be quite a bit different beast with lyrics and content bringing to mind Militia or some kind of other left-wing politics. I'm not saying this is good or bad, but I do appreciate the candidness and lack of shame which Nyodene D so clearly expresses.
As for the sounds here, the compositions are well thought out and composed. The quality of the tape sounds great, the mix is perfect and the sounds and loops chosen fit together with tact and precision. Side A opens with The Hand of Oblivion a screeching barrage of noise that features a great spoken sample from one of my favorite film makers and narrators Werner Herzog. The sample fits nicely and is unexpected but there is also a palpable element of emotion and frustration as well as hopelessness added to the tracks that propel the sound and style of Nyodene D to be above your average power electronics fair.
The pacing on Side B isn't quite as strong but the tracks still work well. The general sound reminds me of a mix between the more polished Strom.ec and the rawer sound of Cloama using rhythmic elements in a great way. Definitely another solid and above average release to add to this project's catalog. Recommended.
| | |
| --- | --- |
| Composition: | |
| Sounds: | |
| Production Quality: | |
| Concept: | |
| Packaging: | |
| Overall Rating: | |