Content Nullity – Absolute Dread C30
29 January 2011
xdementia
No Comment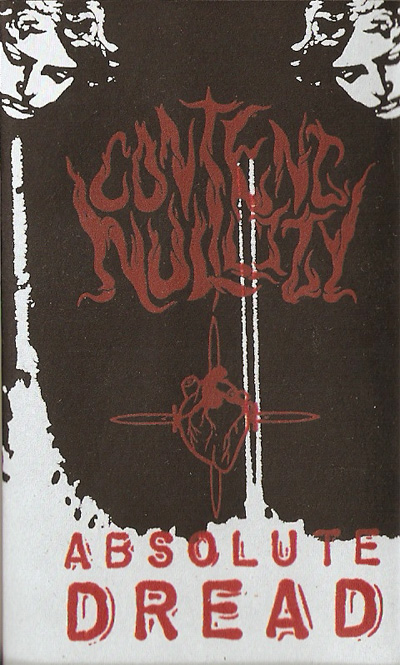 Content Nullity – Absolute Dread C30
Yet another excellent and consistent label presenting a quality item. This time it's Content Nullity from the U.K., a country which has spawned such greats as Whitehouse and Sutcliffe Jugend, and which gives Content Nullity some big shoes to fill indeed. Luckily the project has already released a number of quality albums and Absolute Dread is no exception.
Although this is perhaps not my favorite material from the artist it's still a solid release creeping in with one long track on side A entitled The Parasites That We Are aptly setting the tone with slowly building tones that finally form a rhythmic bubbling shifting drone. The track is a bit understated and seems just a little hindered by the fidelity of the tape but it lives up to the level of quality that Content Nullity has set for himself.
Side B sees a more familiar side with a alternating industrial rhythm building up to a wall of harsh cut-up noise in Throw My Bones Down the Well. I always enjoy the detailed harsh noise that Content Nullity serves up and this is no exception. It has depth and detail that is not overlooked.
Worth mentioning is the exceptional design and silk screen printing on this release. The tape is a bright fire-engine red with defined black text and graphics and the booklet features high-contrast black and white artwork with sparkly red ink printed over the top making this a unique and gorgeous looking D.I.Y. release. Absolute Dread has an excellent vision and execution in all aspects, great work!
| | |
| --- | --- |
| Composition: | |
| Sounds: | |
| Production Quality: | |
| Concept: | |
| Packaging: | |
| Overall Rating: | |