EE03: INTERNAL EMPTY/BURN WARD/XIPHOID DEMENTIA – SPLIT CDR
11 December 2009
xdementia
No Comment
*DELETED*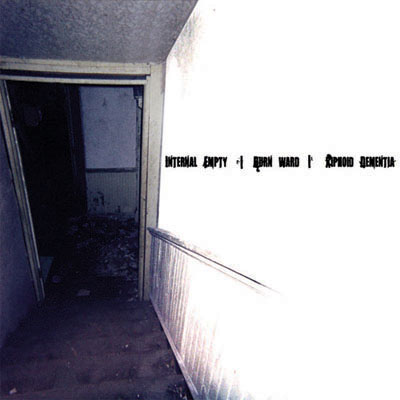 A split album featuring work from each of these 3 artists. Internal Empty delivers one long track of bubbling, squelching, and piercing drones. Swelling from haunting glitches to rumbling proportions. Burn Ward presents 6 new tracks of searing harsh angular noise. Cunning oppressions from beyond the Freudian unknown being. Xiphoid Dementia releases 24 min of alienating pain convulsions with stricken and hopeless interludes.

Internal Empty
1. A.L.W.S.P.M. [Excerpt 1] [Excerpt 2]

Burn Ward
2. Insects
3. Foodgate [Full Track]
4. Dry Rot
5. Towers Rise
6. Tinfoil Disorientation

Xiphoid Dementia
7. Abomination [Excerpt 1] [Excerpt 2]
This release is no longer available.
First 25 copies come with special hand made packaging.
Limited to 100 copies.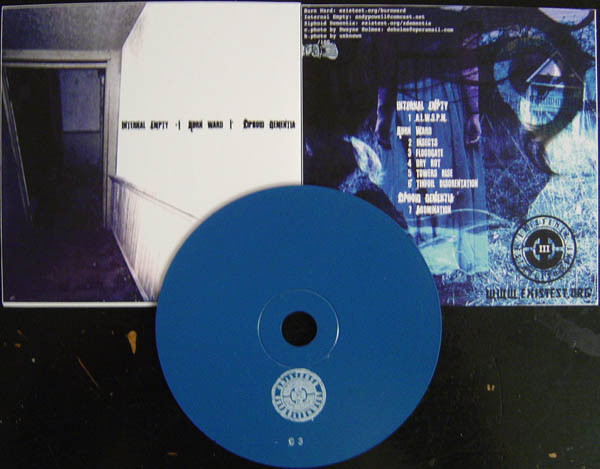 REVIEWS
From Aural Pressure
The boys are back in town. The boys are back in fucking town. Riding in like the three horsemen of the apocalypse. Famine was having a day out at Pizza Hut so wasn't available for this trip. Greedy bastard. It sure does give me a warm feeling in the old grumble bag whenever a group of artists makes a welcome return. Long time no see Burn Ward and Xiphoid Dementia. How's it hanging? Not only that but they've brought along a new pal to make my acquaintance. Hi Internal Empty. Nice to meet you. Pleasures all mine. You from these parts? Don't really matter. You're in good company. What's this you've brought me? Whoa! A three way split CDR. Fucking 'A'. Hope to fuck its a bit longer than the last split I heard from you boys off of Burn Ward and Xiphoid Dementia. Only joshing. But shit…it was short in duration. Even you would agree with that. Still gave it a good review though. You sell many copies on the back of that? Yeah. No surprises there. People = Shit as those cunts from Slipknot so poignantly put it. Groovy looking cdr. Blue embossed on a black cdr. Class. A 7 tracker as well. Limited you say. 100 copies!! You boys are taking the piss again. Well nice meeting you. You can get back on your horses and fuck off now and let me get on with reviewing this thing.
Internal Empty start proceedings with one long 29 minute track titled 'A.L.W.S.P.M'. I must have spent that amount of time just trying to figure out what it stood for. Personal pride…and the fact I would look a proper twat…saves me from showing you what I came up with. 'A.L.W.S.P.M' is an electronic drone / experimental piece with a black ambient roundabout feel to it. It kind of burbles and gurgles in all the right places with further excursions into rumbling excess which sounds better than described. Actually I wouldn't mind hearing more of this stuff so therefore it receives a big thumbs up. Well done Internal Empty.
Burn Ward follow with 5 tracks of incendiary noise. VERY FUCKING LOUD noise. EXTREME noise. PAINFUL OBSCENE noise. STEAM HEAT HOT noise. That's gotta hurt. And it does. Red rag to a bull time. Coming in after the more delicate refined sounds generated by Internal Empty these fairly short… thank God for small mercies… blitzkriegs are genuinely upsetting. A hand grenade going off in the face. The screams. The OTT electronics. The… oh its finished… I'll just go clean up the vomit off the carpet. You can expect the cleaning bill in the next post. Ball crunching sounds for squashed testicle lovers everywhere.
Rounding it all off comes this 24 minute coup de grace from Xiphoid Dementia. A mind blowing trip of electronic experimental fuckery that combines the noise of Burn Ward with the semi ambience of Internal Empty. Which fits in nicely with both those acts. This track titled 'Abomination'…which it isn't… seems to randomly stop / start but is actually meticulously planned. Thrown out. Reeled in. Thrown out. Reeled in. Calm then storm. Calm then storm. Which makes it sound like crud but you really have to hear it to experience it for yourself. The effect is one of complete disorientation. Musically akin to a peck on the cheek followed by a kick to the head. Repeated. Repeated. Repeated.
Haven't heard of these acts before? Now's your very limited chance. Catch 'em whilst they're HOT. A fine introduction to all three quality acts which will appeal more to the noise & drone freaks who peruse this site. Everyone else can find some other another party to crash.
From Vital Weekly #499
To start with Xiphoid Dementia (although placed at the end of the release), their 'Abomination' is a twenty-some minute piece in similar areas as their previous release: dense, stretched fields of synthesizers, which occasionally leap into the world of noise. Quite nice, again. Internal Empty also has one track here, Burn Ward is the only one to offer more tracks, five in total. Burn Ward likes to play the noise card. Feedback distortion and vocals. It's sort of alright, but nothing new under the Whitehouse sun. Internal Empty is the most ambient player here, although it's quite deep, dark and covered with traces of abandoned factories. The best track here.
From Club Debil
Drei Projekte auf einer CD, wie sie kaum unterschiedlicher sein könnten. Das einzige Verbinde scheint die elektronische Klangerzeugung zu sein. Internal Empty eröffnen mit einem superdüsteren und dazu überlangen Drone-Ambient-Stück. Hat sich der Hörer erst einmal in diese finstere Welt begeben, wirken die Beiträge von Burn Ward geradezu wie Hammerschläge. Nach einem eher gemächlichen Anfang von "Insects" lässt es Benny Nelson ordentlich krachen. Es scherbelt und zwirbelt, fiept und kratzt, was die Elektronik hergibt, immer hart an der Schmerzgrenze entlang. Manchmal auch darüber hinweg. Sehr fetter und abwechslungsreicher Noise, für den sich ohne allzu großes Risiko mutmaßen lässt, dass er nur einige wenige Freaks begeistern wird. Persönlich finde ich das Ganze recht lustig, Gedanken zu den Folgen eines Dauerkonsums muss ich mir jedoch keine machen.
Nach der Burn Wardschen Hirn- und Gehörsmassage lassen es Xiphoid Dementia wieder ruhig angehen und das ist auch gut so. Wer sich aber von den mystisch-ambienten Strukturen am Anfang ihres Stückes und den eingestreuten Chorälen einlullen lässt, wird durch gelegentliche Noise-Ausbrüche wieder in die harte Realität zurückgeholt. Mit fortschreitender Zeit – auch dieses Stück überspringt die 10-Minuten-Grenze mit Leichtigkeit – nehmen diese überhand um letztendlich zu dominieren, ohne jedoch dabei so krass wie bei Burn Ward zu wirken. Insgesamt ein sehr abwechslungsreiches Stück, das zwischen entspanntem Ambient und bohrendem Noise changiert, wobei gerade die zeitweise Kombination beider Stile den Reiz ausmacht.
From Night Science Vol. 3
Internal Empty step up first for this disc, a half-hour track of drenched ambient tones which does everything by the book to bring about a well-executed piece, but one that has little interest for me. The sopping swell of the track which distorts its otherwise smooth features is welcome, but overall "A.L.W.S.P.M." is a rather vacant, safe piece of gloss which is forgotten very easily.
Burn Ward doesn't take so well to the longer format, a more constricted production also causing Benny's five pieces some difficulty. The ferocity of Burn Ward's frantic squeals of high-end is welcome, particularly after sitting through Internal Empty, the adbrupt approach beginning with "Insects" but quickly losing momentum with the unsatisfying "Dry Rot" and "Towers Rise" which even in their brevity never look likeachieving anything of substance. Burn Ward's vocals may be impassioned but their use quickly thins and disorients the tracks, the concentrated cut-ups and denser texturising working far better then the extended segments. After the above-average "Self Immolation" b-card CDR this disc is a disappointment but, I believe, an aberration – I won't be giving up this easily.
Xiphoid Dementia splits the difference, wafting synthetic tones bunted aside periodically by distortion-grimed rhythms, affrontive drilling, and hints of metallic clutter, the gaps shifting in their structure as the hits of louder material lenghten "Abomination," the progress aggravating these into wonderfully unsubtle blasts of noise. Again the work is impressive but a pretty safe exorcise in "experimental music," another unexplained and emotionless implementation which is technically sound but little more.
The effort which has gone into the presentation of this release, as well as the audio content, is unmistakable and if others hear what I'm missing from this disc then it will no doubt receive a positive response; sadly none of the three have given me reason to return to this one.