TL0741 – Magnetic Injuries (HC3TLCd2) CD
3 February 2011
tankakern
No Comment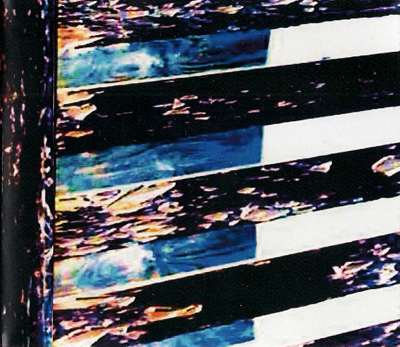 TL0741 -Magnetic Injuries CD
TL0741 is Pat Gillis, and Magnetic Injuries (HC3TLCd2) is a new version of his previous Panic Research Audio release simply titled Magnetic Injuries. The album consists solely of tape manipulation and synth effects. Using ambient sensibilities combined with ominous analogue wizardry, Gillis takes the listener on a journey that relies almost solely on mood and atmosphere. Gillis apparently has no desire or even reason to abrade the listeners' ears; while he does include short bouts of aural aggression the key here is defining sonic space using audio techniques to project everything cosmic and expansive.
The album begins on a rather psychedelic note with earlier tracks (particularly Lung Orchid) taking on a slightly Acid Mothers feel; Ur Chokt is very spacy and makes probably the most obvious use of tape manipulation. From there on, though, ambience is the key player on Magnetic Injuries (HC3TLCd2). The intent throughout seems to be very lethargic, deep buildups bookended by celestial drones; the fifteen minute long Auricle (which gets minimally industrial halfway through and ends with an equally minimal harsh section) represents this formula at it's best but it is not exactly exclusive to the whole album. Gillis has created something that is sensitive at times, massive at others, and even sometimes nostalgic.
Gillis definitely succeeds at defining immense expanses on Magnetic Injuries (HC3TLCd2), but by about track six the listener knows what to expect and the album loses energy from there. While this album is captivating and immersive, Gillis may have tried a bit too hard to extend the lifetime of the album and consequently drags the listener through a few too many tracks. Also, the slight amount of abrasion that Gillis includes here is so short lived that the drones outweigh the aggression heavily and make the harshness seems out of place. Besides that, though, Gillis knows exactly how to completely submerge the listener in tone and sonic environment, even if it tends to drag on a bit. The production here is spot on and the combination of tape loops and dark synth make for some gorgeous and ambitious sounds.
| | |
| --- | --- |
| Composition: | |
| Sounds: | |
| Production Quality: | |
| Concept: | |
| Packaging: | |
| Overall Rating: | |