Haus Arafna – You CD
21 February 2011
xdementia
No Comment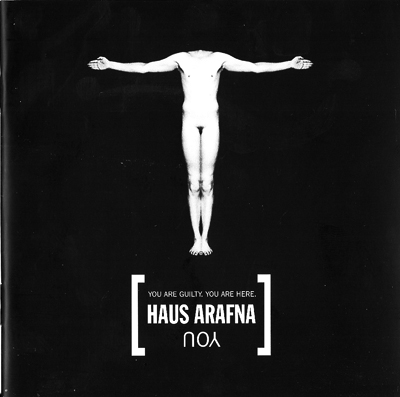 Haus Arafna – You CD
You is an immediate continuation on the twisting narrative of the German husband-wife duo Haus Arafna. The album is their 4th full-length among a hand full of 7 inch records, singles, compilations, and collections. You continues Haus Arafna's foray into more accessible synth-pop territory but still has a few industrial/power electronic gems thrown in the mix for good measure.
Kicking off You is the dreamy, melodic Pain to Love sweeping in and encouraging the listener to let down their guard. Don't worry your trust won't be betrayed here. You Don't Believe Me follows this time leaning much more towards the synth-pop arena with measured beats and softly sung simple melodies yet still retaining a dark edge. Finally the industrial knob is turned up with Learned Helplessness which leads into the title track You, which is a marching attack of synth hitting rhythms and screamed vocals that are still somewhat contained.
Judas Kiss is another understated slow song with a very catchy, slow melody once again sung in Mr. Arafna's tired, half apathetic droning voice which just mixes so well with the haunting, plodding synth score. Today You Died follows with a more experimental edge and an excellent monologue, laying emotions quite bare and perhaps transmuting You into one of the most personal industrial albums I've heard. Lucifer is the only track here which I particularly don't enjoy with it's over-elaborate vocal lines that work up to some awkward pitched meandering and the more run-of-the-mill beats that accompany them.
The Woman You Are continues the more personal aspect of Haus Arafna's concept and it furthers to unravel the twisted narrative that lies somewhere obscured underneath the surface of the album. Thankfully the tracks push further into more power electronics territory peaking at the alternating electrical currents of Alive Through Pain and Colony Collapse with belted vocals and pounding synth percussion while still alternating to understated female vocal melodies. It's an odd mix of influences but a mix that only the likes of Haus Arafna could pull off.
Ending You on a strong note is the excellent Independent which once again turns things down to a more minimalist experimental tone almost reminding me of early works by The Knife. Mr. Arafna's vocals resound with exceptional relevance given the current events transpiring in the Middle East – although I imagine that the actual concept here is much more personal. You is proven to be the next successful chapter in Haus Arafna history and yet another classic to add to their already impressive catalog.
| | |
| --- | --- |
| Composition: | |
| Sounds: | |
| Production Quality: | |
| Concept: | |
| Packaging: | |
| Overall Rating: | |