Churner – Boneyard CD
27 February 2011
tankakern
No Comment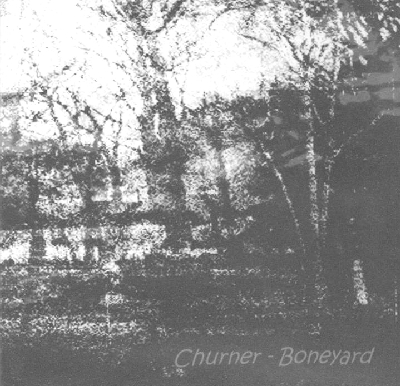 Churner – Boneyard CD
Boneyard is one of the many 2010 releases from the prolific Churner, and where he took the lo-fi, melodic sound on the previously reviewed and ill-planned Florescent Bondage, he goes for a much more straightforward approach on this EP. Boneyard is a very appropriately titled EP; the moody, dismal sounds presented here completely evoke the mood of a creepy, fog filled graveyard. Nothing here is very innovative or original; Churner just traverses the soundscape deftly and has created an atmospheric, albeit short soundtrack to an imagined trek through a sinister necropolis.
Digging Up Graves is a harsh, wailing piece that gets into some really desolate tones near the end. The majority of the track consists of an ebb and flow of sonic assault; waves and crescendos of noise are followed by a dreary section that does the most on this album to conjure images of graves and corpses. The amount of reverb is massive and while the song is a pretty typical noise track, it's definitely a well done one.
Night Vulture starts out with more of a dark ambient feel with noise overlay. The sense of impending dread is palpable. Churner does well on this track with mixing a sound that reminds one of a typical horror movie with typical nihilistic harshness seen in the noise genre. The track quickly becomes a noise track like the first, but the transition is seamless.
Overall, I found Boneyard to be an enjoyable album. Both tracks are dense with trepidation and dismay. This is a sound that Churner produces much more effectively. I can't call this a necessary listen, but fans of the sound won't be let down.
| | |
| --- | --- |
| Composition: | |
| Sounds: | |
| Production Quality: | |
| Concept: | |
| Packaging: | |
| Overall Rating: | |