Dan of Earth – …I Can Still See The X 3"CDr
3 March 2011
tankakern
No Comment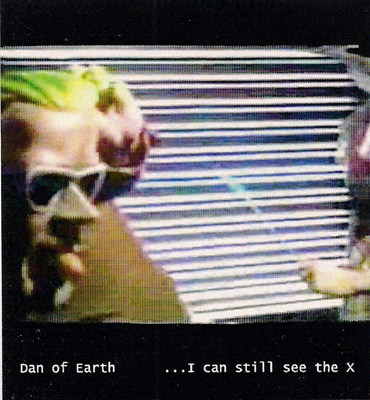 Dan of Earth – …I Can Still See The X 3″ CDR
The name Dan of Earth is kind of an ironic name for this artist, because …I Can Still See The X is pretty otherworldly. Taking a  heavily ambient route, this short (it clocks in at just over twenty minutes) but absorbing album sounds like a transmission from some point far into the future. Utilizing avant garde tendencies and a general, Kafkaesque weirdness, …I Can Still See The X is a solid release from this obscure act.
New Smooth Jazz probably utilizes the avant garde aspect the most on this album. With bursts of free jazz saxophone, the environment created here is a weird, alienating one for sure. The radio broadcast at the end mentioning Kenny G just punctuates how weird this track is. Erdos Number plays like radio chatter or ambient noise from a cyberpunk cityscape. From there on, the album takes on a very ambient/drone feel and stays there. There really aren't any crescendos or climaxes present here, but Dan of Earth was obviously focusing on creating a feel of place here, and he succeeds.
This album probably isn't the most original thing I've ever heard, but the esoteric, obscure sound it takes on is something I appreciate greatly. There's a very stream of consciousness feel going on here below the surface, and while some people might feel that …I Can Still See The X is a bit too short, I feel like any more on this album would be overdoing it. The sound gets a little redundant by the end, but for the most part, Dan of Earth has created a pleasurably weird album.
| | |
| --- | --- |
| Composition: | |
| Sounds: | |
| Production Quality: | |
| Concept: | |
| Packaging: | |
| Overall Rating: | |