Government Alpha – Impregnable Storm CD
4 March 2011
xdementia
One Comment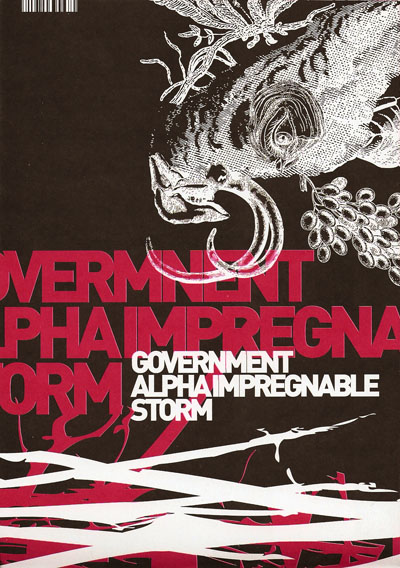 Government Alpha – Impregnable Storm CD
To those out of touch with the world of harsh noise Government Alpha is a long standing Japanoise act and often referred to as one of the leaders of the second-wave of Japanese noise. With Impregnable Storm Government Alpha offers a hefty barrage of harsh frequencies by way of the Polish label New Nihilism which has uniquely packaged the disc in an enormous well designed poster.
Impregnable Storm is just that – a wailing downpour of unhindered powerful sound without respite for about an hour. It is obvious the sound is mostly synth based and since none of Government Alpha's work has ever really caught my ear before as something very original or different this seems to follow suit.
If I were to guess what was going on here I would say the source is a modular synthesizer processed with various digital and pedal effects to form a monolithic wall of seething noise. There are some interesting textures sprinkled about the release but overall the sound is quite average. If I were to compare this to something I've heard before it would fall into the more synth-based noise realm of Astro.
Not quite something that turns me on at this point. This would perhaps be a great introduction to someone who has never experienced harsh noise before in all it's glory, but to a jaded noise fan like myself I've heard this a hundred times before. I'm more likely to pull out my old Pulse Demon CD then to be spinning Impregnable Storm any time soon.
| | |
| --- | --- |
| Composition: | |
| Sounds: | |
| Production Quality: | |
| Concept: | |
| Packaging: | |
| Overall Rating: | |